10 Best Resorts in Arizona
We may earn a commission from affiliate links ()
Arizona is a captivating mix of jaw-dropping natural wonders (hello, Grand Canyon), historic Native American cliff-top villages, and vibrant cities like Phoenix. While visiting, travelers tend to stay a while in order to take in the majestic attractions this unique state has to offer. Luckily, there are a slew of fantastic resorts in Arizona waiting to welcome every type of traveler.
Whether you're hoping to hike through a desert in Tucson, clamber around the red rocks of Sedona, or roam through Monument Valley, you're sure to find a comfortable resort to welcome you at the end of a busy day spent outdoors.
Not sure where to stay? You'll find great options on our list of the best resorts in Arizona.
Note: Some businesses may be temporarily closed due to recent global health and safety issues.
1. Enchantment Resort, Sedona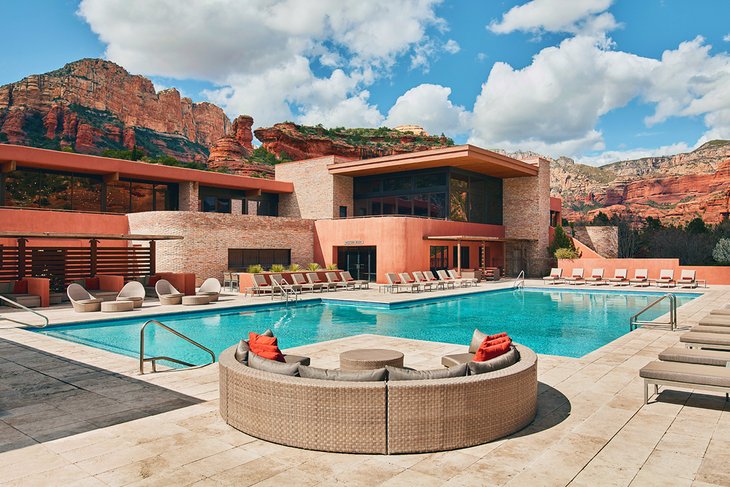 Sedona's Enchantment Resort is another spectacular five-star retreat set within an awe-inspiring setting, this time the Boynton Canyon. This 70-acre resort is also surrounded by rugged mountains of rock painted in a red so enticing, you'll want to snap a zillion photos.
With a setting as captivating as this, you'll want to spend most of your time outside. Enchantment makes this easy with a slew of activities (over 140 each week, to be exact) including, tennis, golf, yoga, pilates, stargazing, and guided hikes or bike rides. Many require an additional fee.
The 4,000-square-foot Trail House is the place to be if you're looking to rent or buy a bike or other outdoor adventure equipment. It also offers access to more than 300 miles of trails.
Camp Coyote is a thrill for kids who want to learn more about nature. Counselors will guide kids aged four through 12 on walks and scavenger hunts, as well as other activities like cooking lessons and arts and crafts.
Eat by the pool, at the golf course, or on an outdoor patio boasting uber impressive views from two on-site restaurants. The food is fresh, seasonal, and mouthwateringly good. Then head back to your private casita or suite to enjoy an equally striking vista from the balcony of your southwestern-themed luxury room.
The daily resort fee includes a guided labyrinth walk, access to the spa suites, golf course, tennis courts, and fitness center, lawn games, and morning celebration and juice.
Address: 525 Boynton Canyon Road, Sedona, Arizona
Accommodation: Enchantment Resort
2. Four Seasons Scottsdale at Troon North, Scottsdale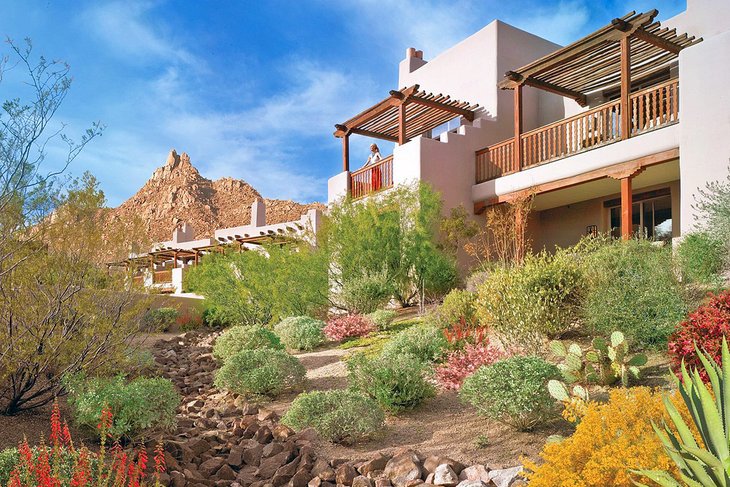 Few resorts do luxury service quite like a Four Seasons. Add a spectacular setting (at the foot of the Pinnacle Peak in the Sonoran Desert) and plush rooms, and you've got yourself a winning holiday locale.
While the casitas are first class, a suite offers guests more space to stretch out, private plunge pools, open-air showers, and fire pits on their outdoor furnished patios. It doesn't get much more luxurious than this!
Take advantage of the outdoor activities like hiking, horseback riding, or biking. Sweat it out in the fitness center, splash about in the bi-level pool, or practice some retail therapy in one of two boutiques.
Multiple restaurants will help fuel your stay, offering tasty dishes ranging from Latin-style meals to American comfort food (chicken and waffles anyone?).
Got extra dirty during your hike? No worries! Washers and dryers are free to use and come with detergent and dryer sheets. While your clothes are getting clean, head to your private outdoor garden shower for a relaxing rinse al fresco. Then warm up by the adobe-shaped fireplace while admiring the resort's star feature: a phenomenal view.
Bring the kids along for an adventure you'll never forget. They'll love the complimentary Kids for All Seasons program, game room, and kid pool. While they're being entertained by Four Seasons staff, head to the spa for a relaxing treatment or play a round of golf on one of the two gorgeous courses.
Address: 10600 East Crescent Moon Drive, Scottsdale, Arizona
Accommodation: Four Seasons Scottsdale at Troon North
3. The Phoenician, a Luxury Collection Resort, Scottsdale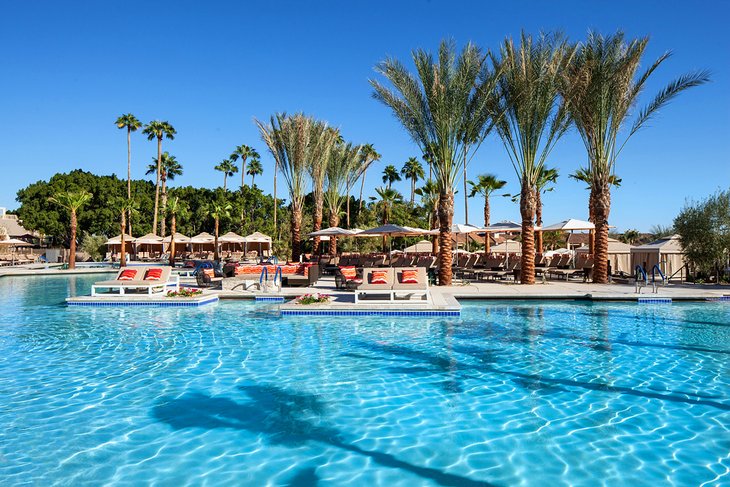 It's impossible to get bored while staying at the Phoenician. By far one of the most luxurious and best resorts in Arizona, this uniquely wonderful retreat offers golf cart safari tours, guided hikes up Camelback Mountain, art history walking trips, and daily tours of the impressive cactus garden.
The on-site athletic club boasts not only a fitness center, but a basketball half-court, tennis and pickleball courts, and bike rentals. Kids will particularly love the first-floor arcade, foosball, and shuffleboard, as well as the Kidz Zone splash pad. A kids' club is also available for kids aged five to 12.
Book a cabana by the multi-tiered Phoenician Pools for added privacy and shade, then grab a bite at the poolside Kalio Kabobery restaurant. Not a fan of eating while wearing a bathing suit? Enjoy a meal at one of the eight on-site dining venues, which range from super casual to fancy; the fare won't disappoint no matter where you dine.
Relax in your oversized luxury room at the end of a busy day. Before you leave, be sure to book in for a sumptuous treatment at the resort spa. Included in the daily resort fee are access to the driving range (including practice balls), two-hour daily bike rentals, tennis courts and equipment rental for an hour per day, outdoor yoga classes, and Wi-Fi.
Address: 600 East Camelback Road, Scottsdale, Arizona
Accommodation: The Phoenician, a Luxury Collection Resort, Scottsdale
4. Sanctuary Camelback Mountain, Paradise Valley, Scottsdale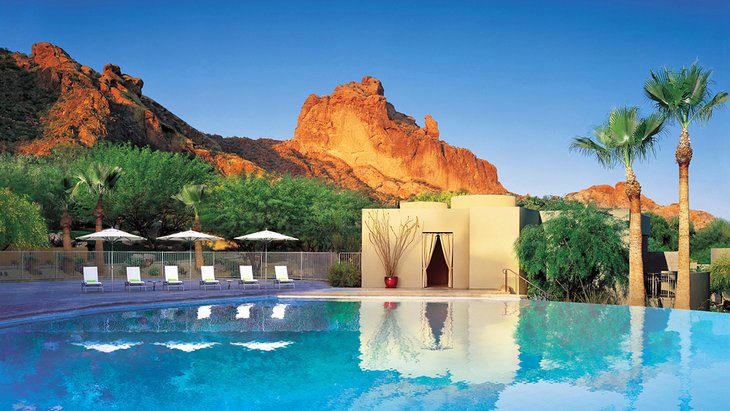 As its name implies, Sanctuary Camelback Mountain Resort and Spa is a serene haven for those looking to unwind in the lap of luxury. The views are more than worthy of the extreme price tag that accompanies a stay at this luxe five-star establishment, which is carved into the remarkable Camelback Mountain.
In addition to awe-inspiring vistas, guests at this romantic Scottsdale resort are treated to 53 acres of luxurious bliss. We're talking crystalline infinity pools, a top-notch Asian-themed spa, a fitness center, lap pool, and the award-winning Elements restaurant. No wonder it's considered one of the best resorts in Arizona.
The accommodations here are spacious and impeccably designed with a contemporary chic motif. Choose from 109 plush mountain casitas and suites, or upgrade to one of eight spacious villas, each of which comes with its own pool and terrace.
As for activities, you won't get bored. Wander the trails dotted along the property, play a game of tennis, or partake in a yoga class. There aren't a lot of things for kids to do, as this retreat is geared more towards adults.
Address: 5700 E. McDonald Drive, Paradise Valley, Arizona
Accommodation: Sanctuary Camelback Mountain
5. Boulders Resort & Spa Scottsdale, Carefree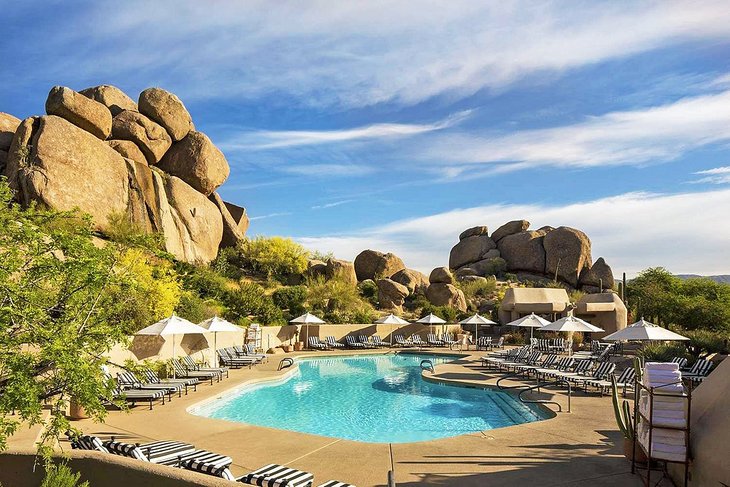 It's hard not to gasp at the sheer beauty of Boulders Resort & Spa Scottsdale, nestled in the foothills of rugged granite mountains rising from the cactus-covered Sonoran Desert. Dubbed by many as the best resort in Arizona (and some would say, the country), this unique haven is a perfect place to unwind in a setting so striking, you'll wish you had more photo storage in the Cloud.
The adobe-style rooms (a.k.a. casitas) bring the outside in, featuring log beams in the ceiling, wood-burning fireplaces, southwestern décor, and fabulous balconies designed to ensure a great view. Want something even more glam? Book a more spacious villa or hacienda. These stand-alone buildings make it easy to stay awhile with kids.
At this five-star resort, you'll find all the perks you'd expect in a member of the Curio Collection by Hilton: comfy beds, clean rooms, and exceptional service. Three restaurants (plus Bogey's at the golf course) offer impeccable meals served with an even more impressive view. A café offers grab-and-go breakfast and lunch, while lunch can also be had by the club and resort pools.
No vacation to Arizona would be complete without some outdoor time. Enjoy a dip in one of the four on-site pools, challenge yourself to make par at one of the two award-winning golf courses, or head out on a rock climbing or horseback riding adventure. When you've tired yourselves out, a spa awaits to massage all your worries away.
Address: 34631 Tom Darlington Drive, Carefree, Arizona
Accommodation: Boulders Resort & Spa Scottsdale
6. Loews Ventana Canyon Resort, Tucson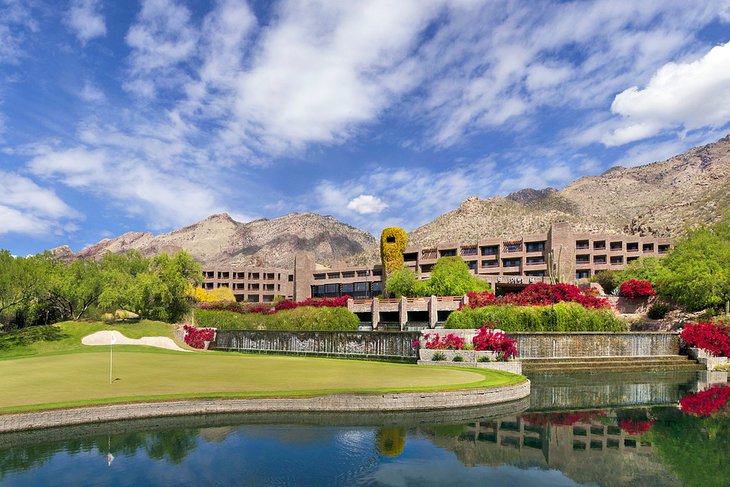 This impressive resort spreads itself along the foot of the breathtaking Santa Catalina Mountains. It offers two expansive pools, 398 large rooms boasting "ahh"-worthy views, and two PGA golf courses.
That's not all you'll find at this top-notch luxury retreat. Loews Ventana Canyon Resort also houses four tennis courts, the award-winning Lakeside Spa, and three tasty restaurants that make the most of the local ingredients and fabulous scenery surrounding them.
Bill's Grill is a more laid-back venue, perfect for those hoping for a quick meal by the pool. Don't miss The BBQ Sunday brunch, an iconic meal that's been dubbed the best brunch in Tucson.
Spend your days lazing poolside, hiking the numerous desert trails, or soaking in the Jacuzzi. There's also a fitness center, yoga, and aerobics classes, stargazing, guided hikes, and an 18-station parcourse fitness trail.
Coyote Kids Club will entertain your little ones with nature hikes or scavenger hunts while you mellow out at the spa or try your luck at making par. Not a big fan of having kids scream and splash while you lounge by the water? Head to the adults-only pool for some grownup tranquility.
Can't leave Fido at home? Good news: furry friends are more than welcome here and they can even receive gourmet room service. Expect to pay a one-time fee for this benefit.
Address: 7000 North Resort Drive, Tucson, Arizona
Accommodation: Loews Ventana Canyon Resort, Tucson
7. Fairmont Scottsdale Princess, Scottsdale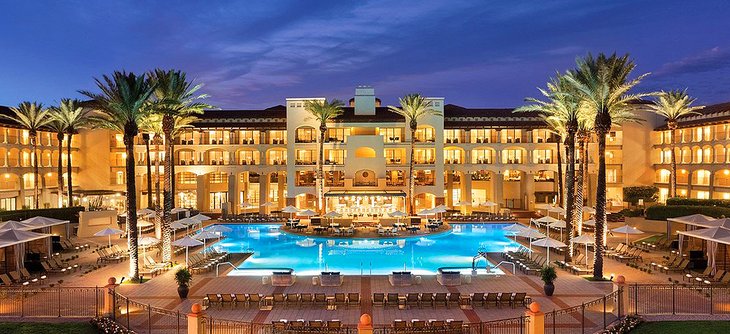 This AAA Five Diamond wonder tops our list of the best resorts in Arizona, and it's easy to see why. In addition to all the perks you'd expect from a stay at a lavish Fairmont property, this lush, 65-acre resort makes the most of its impeccable natural scenery.
Set within the Sonoran Desert, the Fairmont Scottsdale Princess is peppered with lagoons, flowering cacti, and waving palm trees, not to mention a mountain scape your friends back home will wish they could see in real life.
At this family-friendly resort, guests with little ones can enjoy larger family rooms; six pools (including one with waterslides); and the super fun Trailblazers Family Adventure Center where they can ride 3D simulators, play life-sized Pac-Man, and head out for a fishing adventure (catch and release, don't worry).
While the kids are entertained, adults can play a round of golf on one two championship courses used in the PGA's Phoenix Open, enjoy a treatment in the Well & Being Spa, or dine sans kids in one of four high-class restaurants. You're sure to enjoy every meal on this extravagant campus, dubbed "Arizona's Best Dining Resort."
Looking for romance? Head to the Sonoran Landing adults-only pool for some R&R or enjoy a dip in the rooftop pool at the spa. As for your room, expect the best: deep soaking tubs; private balconies or patios; large, airy spaces; and chic, earthy décor.
Address: 7575 East Princess Drive, Scottsdale, Arizona
Accommodation: Fairmont Scottsdale Princess
8. The Ritz-Carlton Dove Mountain, Marana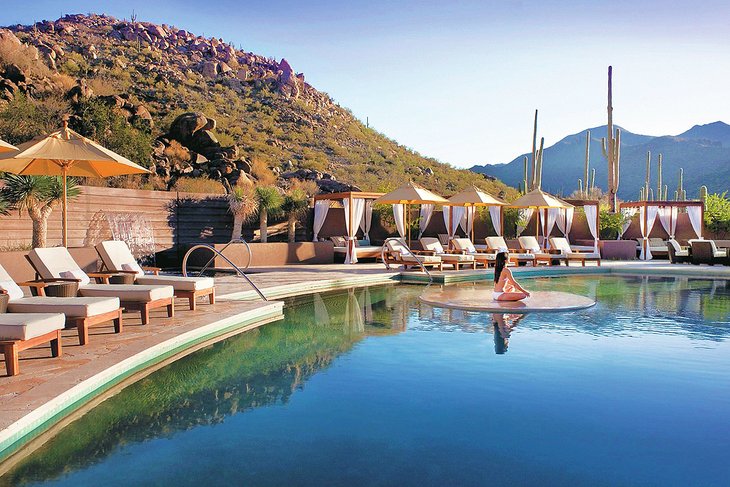 There's nothing quite like staying at The Ritz! The customer service is divine, the décor is chic and inspiring, and the amenities are worthy of royalty – we're talking a decadent spa, three golf courses (designed by Jack Nicklaus, no less), tennis courts, a 235-foot waterslide, and three pools. Oh, and don't forget access to 20 miles of photo-worthy hiking and biking trails.
While it's easy to experience sticker shock over the price of a stay (especially the high daily resort fee) at this plush escape, you definitely get what you pay for: five-star accommodations, high-level service, and food so delicious you'll beg for seconds.
Kids and pets are welcome to join in a luxury stay at this pretty spot, located 23 miles north of Tucson in the Tortolita Mountains. The Ritz Kids Ranger program teaches children about the local environment through games, activities, and experiments.
Back in the room, guests can enjoy spectacular mountain views from a private balcony, coffee from a Nespresso machine, and Wi-Fi.
Address: 15000 North Secret Springs Drive, Marana, Arizona
Accommodation: The Ritz-Carlton, Dove Mountain
9. L'Auberge de Sedona, Sedona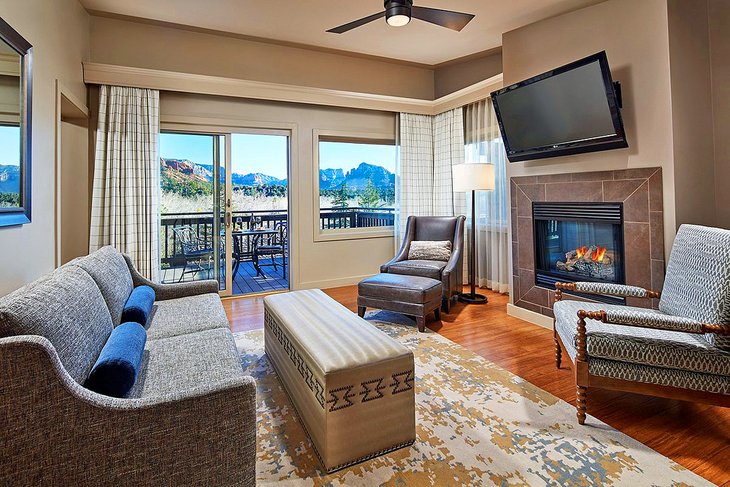 It's easy to lose yourself in the tranquility of L'Auberge de Sedona. Oak Creek bubbles as it passes by the outdoor dining patio. Waterfalls trickle and rush their way through the verdant woodland. Sedona's famously vibrant red rocks stand tall in the distance, encouraging guests to strap on their hiking shoes and head out for a wander.
Within the 11-acre compound, you'll find 88 rooms and cottages, some of which feature fireplaces and outdoor showers. The grounds are home to a pool and hot tub, a fitness center, spa, and two restaurants: Cress on Oak Creek and 89Agave Cantina.
Activities covered by the daily resort fee include duck feeding, star gazing, local transportation, and daily classes such as yoga. Choose from a comfy room or suite in the Lodge or a private cottage, or invite a bunch of friends to stay in the 2,800-square-foot Creekhouse.
Both pets and kids are welcome here, and artists will love La Galerie art program. The resort offers multiple wellness and revitalization retreats throughout the year. Plus, it is close enough to Sedona to make it easy to experience the shops, restaurants, and museums on offer.
Address: 301 L'Auberge Lane, Sedona, Arizona
Accommodation: L'Auberge de Sedona
10. Hyatt Regency Scottsdale Resort and Spa at Gainey Ranch, Scottsdale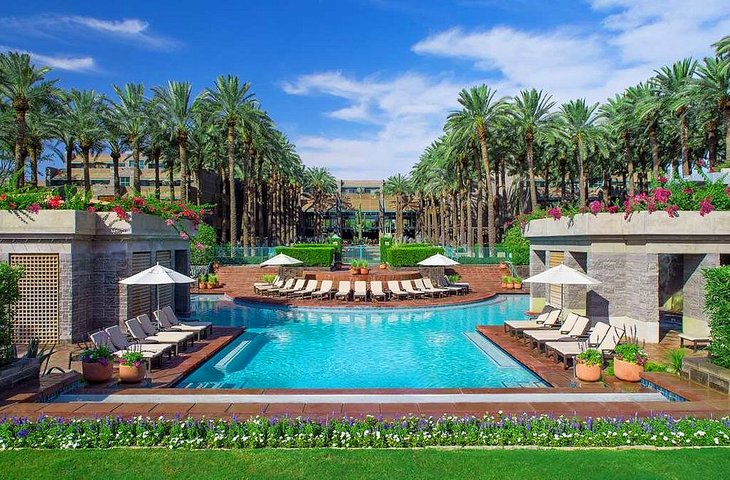 There's no mistaking your desert locale while staying at the Hyatt Regency Scottsdale Resort and Spa at Gainey Ranch. Giant cacti and a horizon filled with craggy mountain peaks lull visitors with their beauty. That said, the giant palm trees, crystalline pools, lagoon, waterfalls, and manmade beach evoke a beach vacay atmosphere.
Good luck tearing the kids away from the 2.5-acre water playground – it boasts a sandy beach and three-story-tall waterslide. Camp Hyatt is another beloved kid attraction that offers parents the gift of alone time to enjoy all the resort has to offer.
Whether they choose to play tennis or embark on a round of golf, luxuriate at the spa, huff and puff at the fitness center, reach new heights at the rock-climbing wall, or take a dip in one of the 10 pools, there are plenty of things to do at this lovely resort. Don't want to get wet? Sign up for a gondola ride along the resort's waterways.
Four restaurants offer guests a variety of tasty options ranging from southwestern comfort food to sushi to Italian specialties. Or grab a bite at the poolside for a more laid-back experience. Stay in one of the gorgeous (and roomy) guest rooms, suites, or your own casita.
While on-site, visitors can take guacamole-making classes, see a Native American beadwork display, or make s'mores at a campfire. Off-site adventures include hiking over 400 miles of trails, soaring high on a hot air balloon, cruising through the desert on a hummer, or biking through the surrounding landscape.
Address: 7500 East Doubletree Ranch Road, Scottsdale, Arizona
Accommodation: Hyatt Regency Scottsdale Resort and Spa at Gainey Ranch