10 Best Places to Stay in Flagstaff, AZ
We may earn a commission from affiliate links ()
In Flagstaff, you can find everything from luxury resorts to cozy and romantic bed-and-breakfasts and a fine assortment of mid-range hotels.
The climate here makes it a great summer retreat destination for travelers looking to escape the heat of lower areas, like Phoenix or Tucson. A spring or fall getaway to Flag, as it's known by locals, is also a nice way to spend some time sightseeing, hiking, or just relaxing.
And while most people don't think of Arizona as a ski destination, the ski resort of Arizona Snowbowl brings skiers and families here from across the state, especially after storms, which can dump literally feet of snow on the mountain.
Prices can vary greatly depending on the season and what's going on in town. Find a great base for your next visit with our list of the best places to stay in Flagstaff.
1. Club Wyndham Flagstaff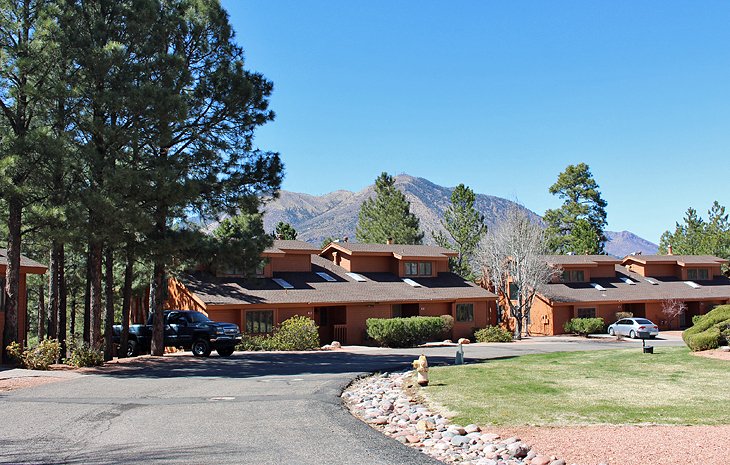 The luxury Wyndham Flagstaff Resort is set on a hillside overlooking the surrounding countryside with views out to the San Francisco Mountains. Individual units are very large one- and two-bedroom townhouses with full kitchens, and range in size from 550 to 1,400 square feet.
Many of the suites have balconies and cozy wood burning fireplaces with stone hearths. In the summer, guests can enjoy one of the two outdoor pools and hot tub, hit the golf course or tennis courts, and the kids can head to the mini golf or playground.
In the winter, a trip to the on-site spa for one of the many treatments can soothe your muscles after skiing at nearby Snowbowl. The resort is near the beautiful Walnut Canyon National Monument, one of Flagstaff's top attractions. If you'd like to head into town, drive time from this resort to downtown Flagstaff is about 10 minutes.
Accommodation: Club Wyndham Flagstaff
2. Inn at 410 Bed & Breakfast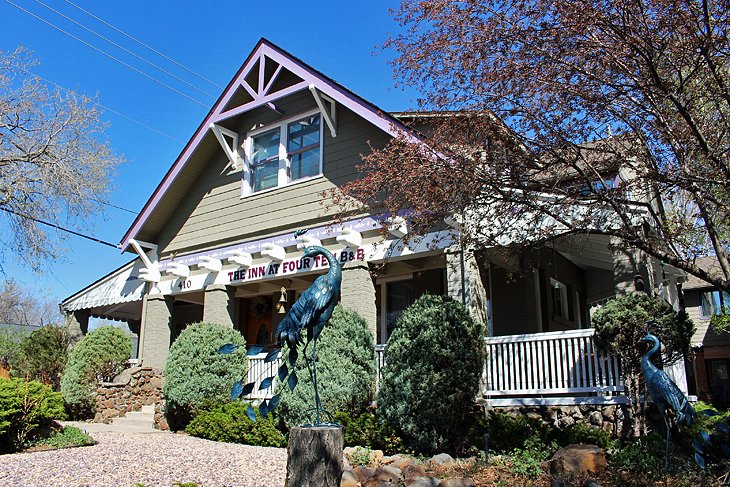 Set in a historic home dating from 1894, the Inn at 410 Bed and Breakfast provides a welcome change from a regular hotel room. Wonderfully restored to its full glory, this home features cozy and romantic rooms and suites.
The parlor room has a wood-burning fireplace, comfy chairs, and is a great place to unwind and relax. Breakfast is a sumptuous affair with a southwestern flair, gourmet coffee or espresso, and fresh fruit and breads. In summer, breakfast is served on the patio, and in the winter, it's served in the parlor before a roaring fire in the hearth.
The property is located in a quiet residential neighborhood that is within easy walking distance of historic downtown Flagstaff with its beautiful old buildings, great dining, and interesting shops.
Accommodation: Inn at 410 Bed & Breakfast
3. Little America Hotel Flagstaff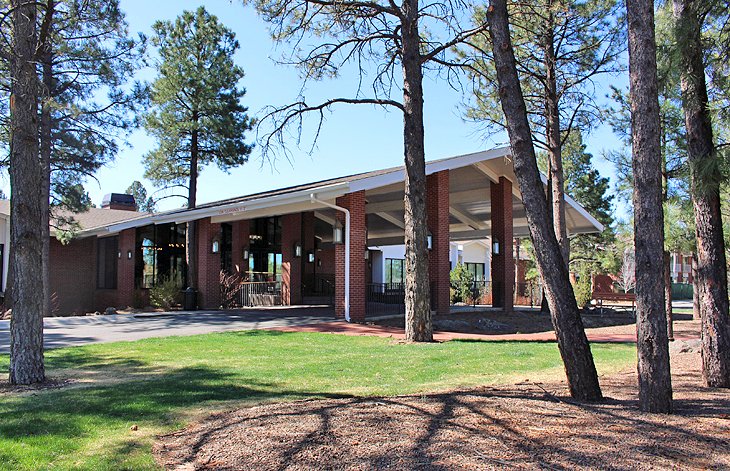 The Little America Hotel in Flagstaff is not your typical roadside hotel. Set among huge pines in a 500-acre private forest, this hotel is a welcoming experience, with 240 rooms in several buildings surrounding a beautiful pool area.
It has long been known for its mom and pop atmosphere - recent renovations have changed the decor, but not the inviting feeling you get here. The Little America Hotel is slightly outside the main Flagstaff area, which makes it feel like a resort in the woods. The rooms are spacious and many have large sitting areas. Skiers love this place.
Address: 2515 E. Butler Avenue, Flagstaff, Arizona
Accommodation: Little America Hotel Flagstaff
4. Residence Inn Flagstaff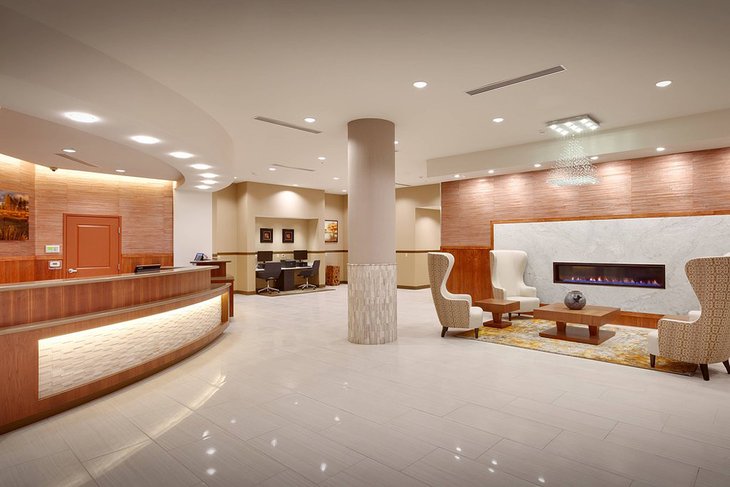 A new player on the accommodation scene in Flagstaff is the Residence Inn. The hotel is located right downtown near the historical area of town and is literally steps to all the best restaurants and attractions.
All rooms are spacious and come with kitchens. The higher floors provide expansive views over downtown. The room rate includes a decent breakfast, and for fitness buffs, a workout room with the latest equipment is provided.
After a hard day of skiing at nearby Arizona Snowbowl ski resort, a soak in the oversized whirlpool will soothe away any aches and pains.
Accommodation: Residence Inn Flagstaff
5. Fairfield Inn by Marriott Flagstaff East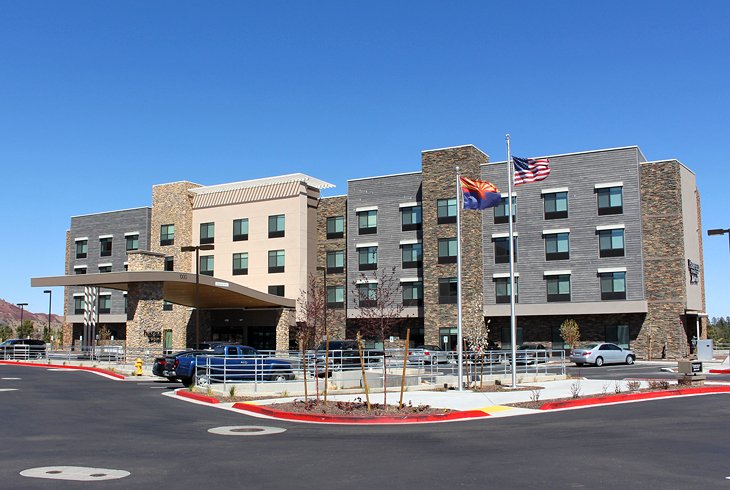 Similar to the Hampton Inn & Suites next door and also one of the newer properties in town, the Fairfield Inn is a high-quality mid-range hotel. It features all the same standard amenities with the bonus of an indoor pool and spa.
Room rates include a hot breakfast and free Wi-Fi. The hotel is convenient if you are visiting attractions in the east end of Flagstaff, including Walnut Canyon, as well as Sunset Crater and Wupatki National Monument. The Fairfield is in the same parking lot as the Hampton Inn & Suites Flagstaff East.
Address: 1000 N. Country Club Drive, Flagstaff, Arizona
Accommodation: Fairfield Inn by Marriott Flagstaff East
6. Hilton Garden Inn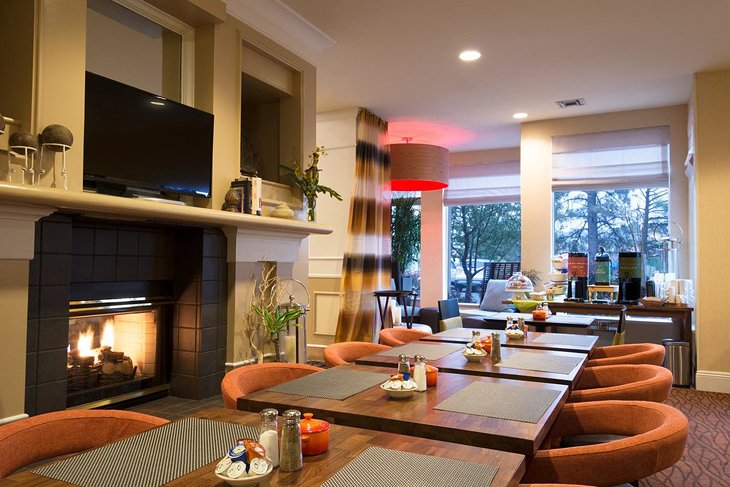 The Hilton Garden Inn Flagstaff offers all the comfort and reliability of the Hilton brand. Rooms are large, modern, and welcoming, and the property offers an indoor pool and whirlpool, a gym, a lovely dining area with a fireplace, and on-site laundry facilities. The hotel is easily accessible from I 40 and is located at the west end of town.
It's close to the Lowell Observatory and convenient for skiers, with the highway heading to Arizona Snowbowl running right by the front. Rates include breakfast.
If you need to do any shopping, a couple of department stores are nearby, and restaurants are located across the street.
This hotel is pet friendly, albeit with a surcharge.
Address: 350 W. Forest Meadows Street, Flagstaff, Arizona
Accommodation: Hilton Garden Inn
7. Drury Inn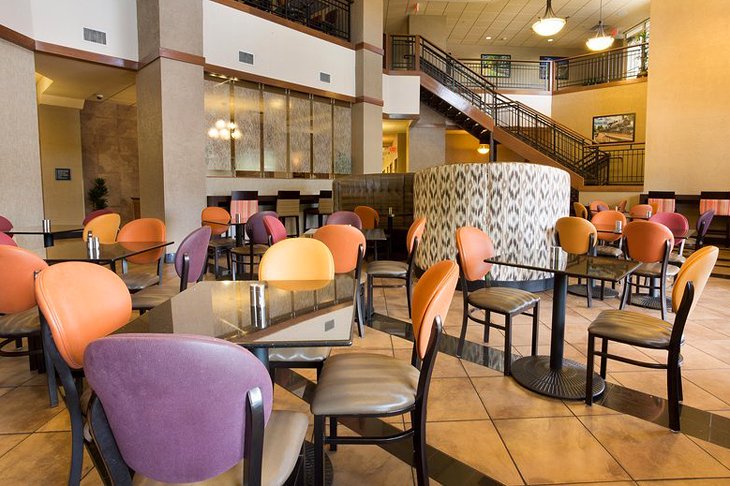 The Drury Inn is located on the campus of Northern Arizona University, making it convenient if you need to spend time at the campus or in the vicinity. It's also located within walking distance of the Riordan Mansion, one of Flagstaff's historical sites.
This property offers a reliably pleasant stay, with a modern appearance and large, comfortable rooms. Each day from 5:30 to 7:00 pm, the hotel provides appetizers ranging from chili or soup to pasta, which could easily be considered a light dinner by some standards.
Historic downtown Flagstaff, with its restaurants, vintage buildings, and interesting shops, is a short stroll away.
Address: 300 S. Milton Road, Flagstaff, Arizona
Accommodation: Drury Inn & Suites Flagstaff
8. Hampton Inn & Suites Flagstaff East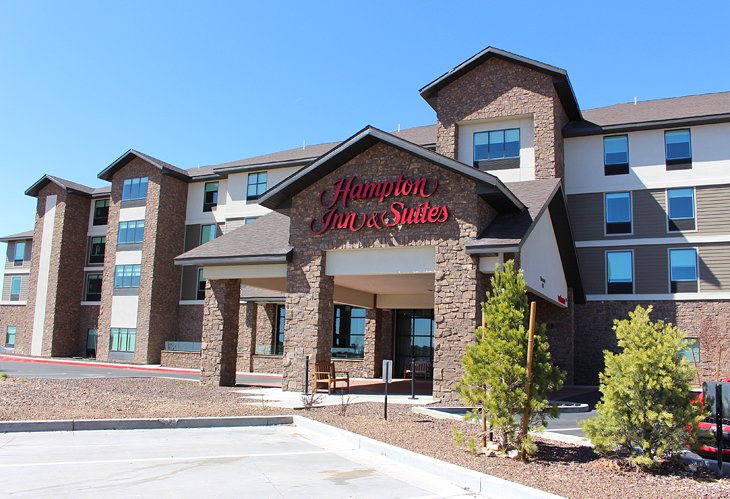 The Hampton Inn & Suites Flagstaff East is conveniently located just off Interstate 40 and is brand new. Rooms on the north side of the hotel feature fabulous views of the often snow-capped San Francisco Peaks.
Rooms, which range from standard guest rooms to large suites, all offer a mini fridge, microwave, and coffee maker, and each stay includes a complimentary breakfast.
The hotel features an indoor pool and spa and is set well back from the highway, so traffic noise is not an issue. Across the Interstate is a large mall with all kinds of shopping.
Address: 990 N. Country Club Drive, Flagstaff, Arizona
Accommodation: Hampton Inn & Suites Flagstaff East
9. La Quinta Inn & Suites by Wyndham Flagstaff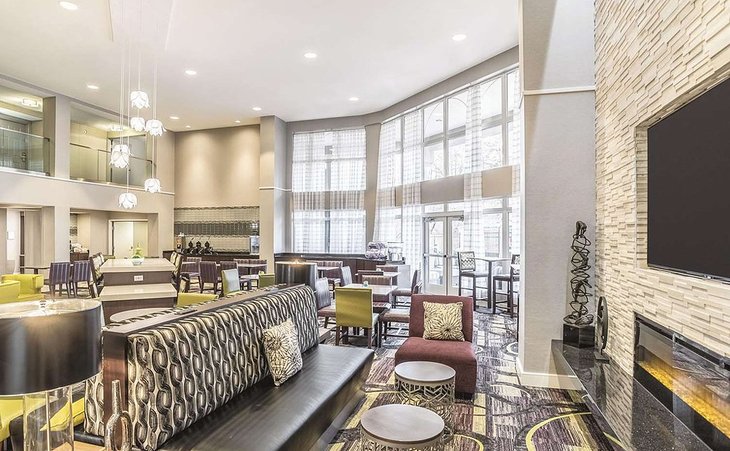 Those traveling with pets will enjoy this hotel, another recent quality addition to Flagstaff's roster of hotels.
Easily accessible off either of the Interstates, this new hotel has large rooms and suites with breakfast included, all at attractive prices. The hotel is well located in the western end of the city and is within walking distance of the Northern Arizona University campus.
10. Sonesta ES Suites Flagstaff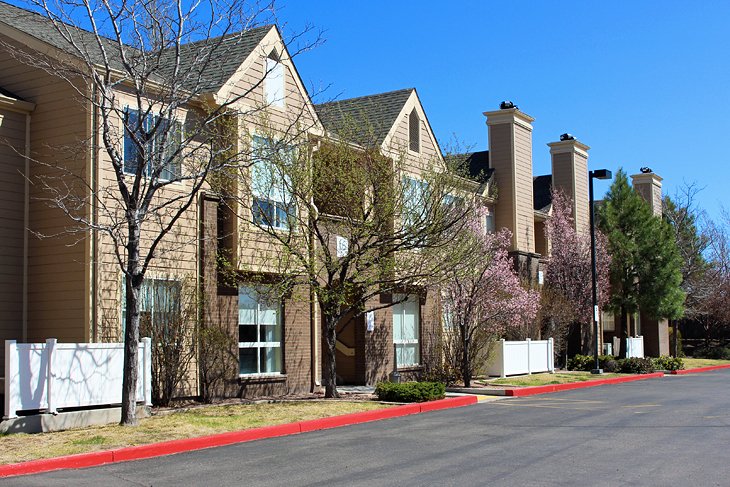 For an extended day with all the comforts of home, turn to the Sonesta ES Suites Flagstaff. Spacious suites with sitting areas and fully stocked kitchens allow you to make your own meals if you choose, although a free breakfast is offered daily. Wi-Fi is free.
Other amenities include a pool, outdoor sitting area, a gym, and across the street is a golf course if you are up for a round or two in the shadows of the San Francisco Peaks.
For families, this is a great setup, with lots of space and the ability to prepare your own meals. This hotel is on the same road as the Hampton Inn, Fairfield Inn, and the Wyndham Resort, about a 15-minute drive from downtown.
Address: 1400 N. Country Club Drive, Flagstaff, Arizona
Accommodation: Sonesta ES Suites Flagstaff
More Related Articles on PlanetWare.com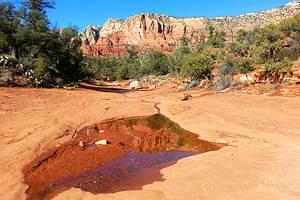 Best Places to Visit Near Flagstaff: From Flagstaff you are just 50 minutes from the town of Sedona, one of the prettiest destinations in Arizona. Be sure to stop here for at least a quick look around. With more time you can hit some of the hiking trails or mountain biking trails. If you've come to Flagstaff to escape desert heat, you can find a similar mild climate in nearby Prescott. This town is not quite as high and not quite as cool as Flagstaff, but it's a four-season destination with great hiking trails.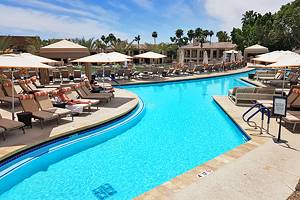 Top Resorts in Arizona: If you are heading farther south on your journeys and looking to enjoy some pool time, be sure to check out our articles on the top resorts in Scottsdale, Phoenix, and Tucson.