4 Best Golf Resorts & Courses in Sedona, AZ
Sedona, with its spectacular red rock setting, is one of the most scenic places in Arizona to play a few rounds of golf. Four main courses are located near town, each with its own special look and feel. All courses are located on or near resort properties with amenities including pools, restaurants, and comfortable accommodation, so if you are traveling with a non-golfer, they will be well cared for.
If you are looking for a golf getaway or even just a getaway that includes some time golfing, this is the perfect destination. Off the course, the list of things to do in Sedona ranges from hot air balloon rides to Jeep tours, some of the best hiking in Arizona, mountain biking, and even tours of ancient cliff dwellings.
Plan your golf vacation our list of the top golf courses and resorts in Sedona.
1. Sedona Golf Resort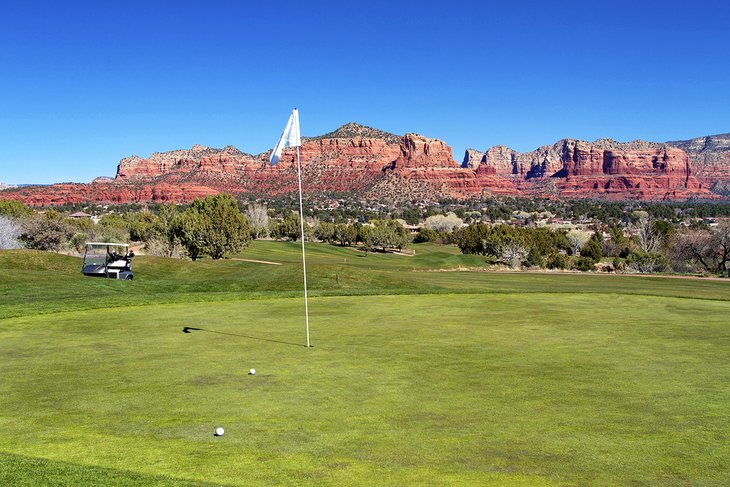 The Sedona Golf Resort boasts a championship par-71 course. Stretching over 6,646 yards, this course has views at every turn. A relatively challenging track, the course rolls through the Oak Creek river valley and ensures that you need to be on your game.
However, keeping your concentration focused will be difficult due to the distraction of the spectacular red rocks that surround you. Playing here is like golfing through the Grand Canyon. Elevated tee boxes not only allow you to break out the big guns and swing away but also provide panoramic views of the surrounding areas.
The course is fairly wide-open, with some danger in the form of water features and tricky sand traps. The signature hole on the course is #10, a 200 yard par-3 off an elevated tee box. You may find a slight delay at this hole due to folks breaking out their cameras and taking photos of their friends teeing off with Sedona's iconic Cathedral Rock providing the backdrop.
Sedona Golf Resort is home to a first-class clubhouse with the Juniper Grille. Grab a spot on the expansive patio after your round, and soak up some of the warm Sedona sunshine. If you are planning multiple rounds, consider buying a Red Rock Card, which will get you discounts of nearly 50 percent off the regular rate along with other clubhouse discounts on food and merchandise.
An ideal place to stay if you are here on a golf trip is the adjacent Hilton Sedona Resort at Bell Rock. This full-service resort has pools, restaurants, and first-class accommodation mere steps from the golf course.
Official site: https://www.sedonagolfresort.com/
2. Seven Canyons Golf Course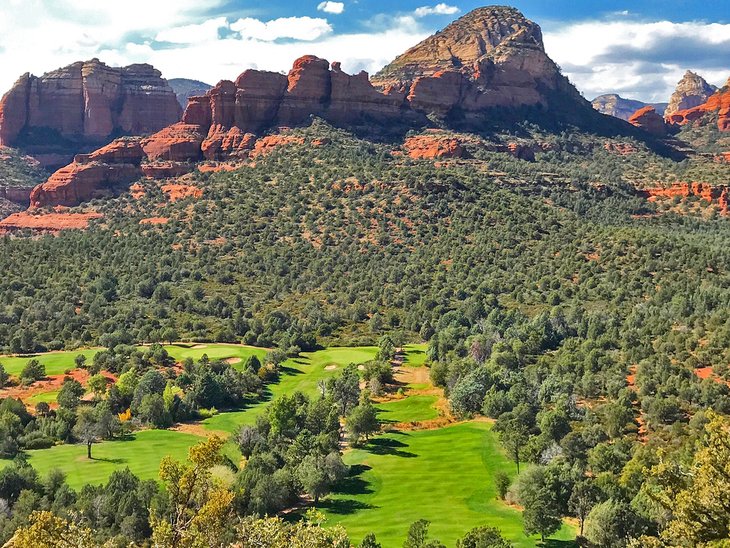 If you can somehow manage to get yourself invited to the exclusive and private Seven Canyons Golf Course, it will be an experience you soon won't forget. If you don't know anyone, book a stay at nearby Enchantment Resort, guests staying here are also allowed to play.
Spread out over 200 acres and surrounded by never-to-be developed National Forest lands, the course exists in its own special world. The par-72 course was designed by the revered PGA legend Tom Weiskopf and stretches for 6,819 yards.
It's a quiet spot for a round, where the only sounds are the smack of the golf ball as it is sent on its way towards an immaculate green. The surrounding scenery is truly spectacular, with the towering red rocks and juniper bushes providing pleasant distractions.
Don't be surprised if you see the odd mountain biker pop out of the forest on a ridge, trails from the nearby public lands run nearby and are some of the best mountain bike trails in Sedona.
The 23,000-foot clubhouse, designed by Douglas Fredrikson Architects is home to The Spot Restaurant, a pro shop, and locker rooms.
Official site: https://sevencanyons.com/
3. Oakcreek Country Club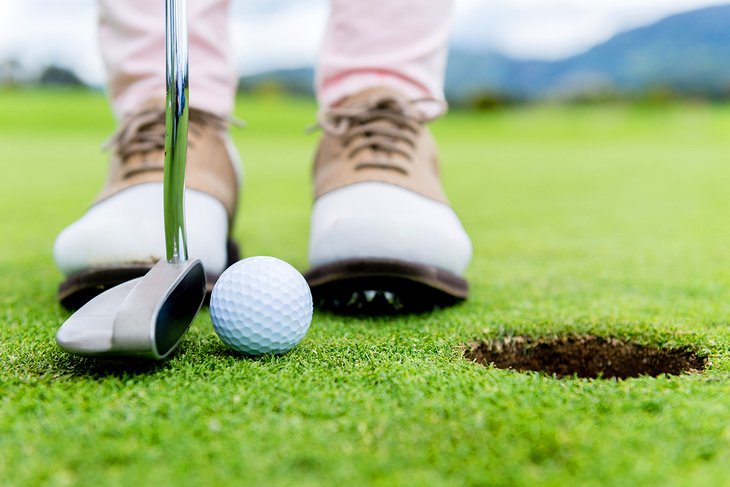 Sedona's original golf course, Oakcreek Country Club is accessible to all. Designed by the famous duo of Robert Trent Jones Sr. and Robert Trent Jones Jr., the course is a par-72 track. From the back tees, the course stretches for 6,824 yards and is considered by many a forgiving course that the casual duffer will enjoy.
Most of the holes are pretty straight, with a few doglegs here and there. All holes have trees on both sides that are fairly easy to exit from should your shot go astray. If the trees don't get you, and your shot goes straight, the course designers have conveniently put bunkers right where your ball tends to land. Should you escape the grief of the bunkers, perhaps one of the water features on five of the holes may get you when you least expect them to.
No matter what your score starts to add up to, you'll still finish the round with a smile on your face. The reason for this is that the scenery surrounding the course is so jaw-droppingly beautiful, you can't help but have a good time. One of the most photo-worthy holes on the course is #13. A short par-3, the ledge of red rocks off to the left and the towering buttes in the distance just beg for a group shot.
Official site: https://www.oakcreekcc.com/
4. Canyon Mesa Country Club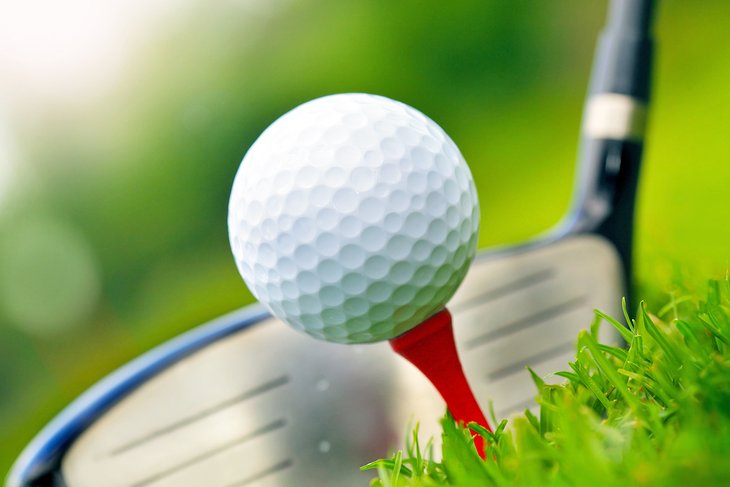 If you are looking for a short, par-3 nine-hole golf course, head straight for the Canyon Mesa Country Club. Here, you'll find a jewel of a course tucked in against the red rocks in the village of Oak Creek. The course is just perfect for those who are casual once- or twice-a-year players or for families looking for something fun to do in Sedona. Designed by Jack Snyder in 1985, the course was purposely built to be an enjoyable and fun experience.
Each hole is distinct in its own way, and in some cases, the pins seem so close that you'll feel like a hole-in-one is definitely coming your way. Stronger golfers should not be dissuaded from trying the course; many of Sedona's top golfers use it to practice their shot making on Canyon Mesa's narrow fairways.
Golfing at Canyon Mesa is affordable; in fact, it's the cheapest place to golf in Sedona. For something completely different, perhaps give footgolf a try. This up-and-coming sport, available only at Canyon Mesa, involves kicking a regulation soccer ball down the course and into a 21-inch cup.
Official site: https://www.canyonmesacountryclub.com/