University, Zurich
From Urich's Heimplatz, the Rämistrasse, coming from the Bellevueplatz, continues up to a terrace on which stands the University (founded 1833, rebuilt 1911-14), with a 64 m/210ft high tower. The University buildings contain a number of museums and collections. Extensive new university buildings on the Irschel, in the Unterstrasse district, were brought into use in 1978. Zurich is the largest Swiss university - in 1988 there were some 19,000 matriculated students.
Related Attractions
University Medical Collection
The museum illustrates the development of medicine through its rich collection of medical objects. Medical developments in areas such as anesthesia, tuberculosis and AIDS are represented.
University Archaeological Collection
The collection has Egyptian, Syrian, Greek and Roman works of art. It also contains plaster reproductions of original antique art.
University Anthropological Collection
The exhibition at the Zurich University Anthropological Collection gives an overview of human evolution.
University Botanical Garden
The greenhouses of the botanical garden are open during the following hours:daily 9:30-11:30 a.m. and 1-4 p.m.The garden contains more than 1.5 million plants.
University Zoological Museum
The fauna of Switzerland from the ice age to present day is exhibited.
Map of Zurich Attractions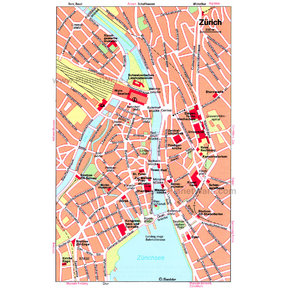 Zurich Map
More Zurich Attractions
Popular Destinations Nearby