Swiss National Museum, Zurich
Schweizerisches Landesmuseum
Immediately north of the Zurich station is the Swiss National Museum (Schweizerisches Landesmuseum), a large castellated building with Gothic elements which was built 1893-1898 to designs by Gustav Gull. It contains the most important collection of material on the history and culture of Switzerland. The main departments in this richly stocked museum are as follows: pre-history and the early historical period; weapons, flags and militaria; goldsmiths' and silversmiths' work; articles in non-ferrous metals and pewter; ceramics and glass; textiles, costume and jewelry; coins and medals; seals; stained glass; sculpture; furniture and domestic interiors; painting and graphic art; clocks, watches and scientific instruments; musical instruments; rural life; craft and industrial antiquities; library; special exhibitions.
Address:
Museumstrasse 2, Postfach 8023, CH-8021 Zürich, Switzerland
Opening hours:
10am-5pm; Closed: Mon
Entrance fee in CHF:
Adult CHF5.00, Senior CHF3.00, Child 15 & under FREE
Transit:
Zurich rail station.
More Swiss National Museum Pictures
Map - Swiss National Museum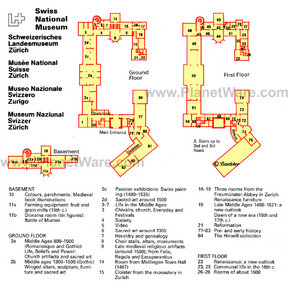 Map - Swiss National Museum
Map of Zurich Attractions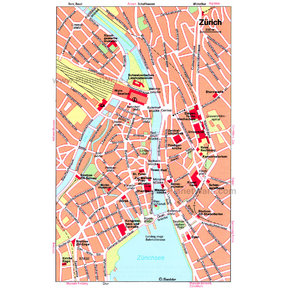 Zurich Map
More Zurich Attractions
Popular Destinations Nearby