Great Minster, Zurich
Grossmünster
On an open terrace above the river stands Zurich's principal church, the Grossmünster (Protestant), which dominates the city with its twin towers (domed tops added in 1782). Built between the 11th and the 13th C., it is a Romanesque three-aisled galleried basilica with an aisleless chancel over a crypt of about 1100. The upper levels of the towers date from 1487.
Important Information:
Opening hours:
Apr 1 to Sep 30:
9am-6pm
Oct 1 to Mar 31:
10am-4pm
On the upper part of the south tower, on the side facing the river, is a seated figure of Charlemagne (copy: original in the crypt), who is believed to have founded the house of secular canons to which the church originally belonged; on the north side of the north tower is a figure of the Reformer Heinrich Bullinger. Notable features of the church are the two modern bronze doors (1935-36), the sculptured Romanesque capitals, remains of Gothic wall-paintings and the Late Romanesque cloister (ca. 1200). In the choir are three vividly colored stained-glass windows designed by Augusto Giacometti (1933) and in the crypt is the badly weathered statue of Charlemagne. From 1519 until his death in the Battle of Kappel in 1531 the great Reformer Ulrich Zwingli was a secular priest in the Grossmünster. His residence was close by, at Kirchgasse 13. The Neo-Gothic Grossmünster chapel (1858-1859) was designed by J. J. Breitinger, the minster terrace is by A. Negrelli.
More Great Minster Pictures
Map of Zurich Attractions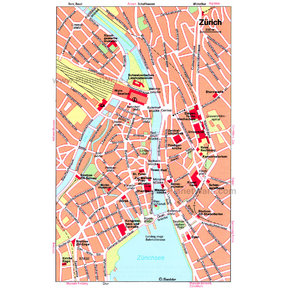 Zurich Map
More Zurich Attractions
Popular Destinations Nearby