The Forks, Winnipeg
"The Forks" is a popular entertainment and shopping center - a kind of vast multi-purpose indoor market in Winnipeg.Located at the junction of the Red and Assiniboine rivers, The Forks is Winnipeg's gathering spot. There is always something happening at The Forks from festivals, to fireworks, to cultural celebrations.
The Forks are Winnipeg's number one tourist attraction with over 4 million visits annually.The architecture of the Forks is quite unique because the site was once a railway repair facility. Over the years the various buildings have been meticulously restored and today support a wide variety of interesting shops and services. A lookout is located in one of the buildings and is a good spot to get a bird's eye view of the area. Pleasant walking trails along the riverfront will take visitors over to another of Winnipeg's key attractions, the Legislative Buildings. From here it is an easy five minute walk to the unique area known as Osborne Village.Near the Forks is the Can West Stadium where the Winnipeg Goldeyes play minor league baseball.
Related Attractions
Manitoba Children's Museum
The Manitoba Children's Museum was started by Linda Isitt in 1982 and grew exponentially over the years. Today the Manitoba Children's Museum is housed in a state of the art facility located at The Forks and underwent extensive renovations which were completed in the spring of 2011.
Explore Manitoba Centre
The Explore Manitoba Centre is a full-service information centre and a theme pavilion. Displays and exhibits at this 8000 sq foot facility allow visitors and residents to discover Manitoba from a historical and modern perspective. The Explore Manitoba Centre is a free attraction and is staffed by very knowledgeable and friendly people. A great spot to find out what is happening today, tomorrow, next week and next month, the Explore Manitoba Centre is very well informed on all key events. The Explore Manitoba is a tremendous resource that can be utilized by visitors to plan out the remainder of their trip to Winnipeg and Manitoba as a whole.
Canadian Museum of Human Rights
The Canadian Museum of Human Rights is currently in the making. This huge undertaking will result in a landmark building in Winnipeg and a leading edge museum in Canada. The purpose of the Canadian Museum of Human Rights is to reflect human rights in both Canada and around the world. If the intended goals are achieved this will be an incredibly unique museum.
More The Forks Pictures

Map of Winnipeg Attractions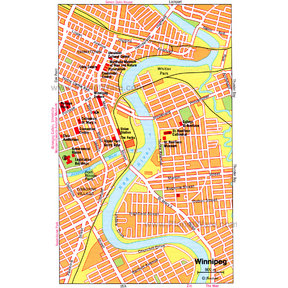 Winnipeg Map
More Winnipeg Attractions
Popular Destinations Nearby