Waterfront, Wellington
The waterfront of Wellington is very attractive. Queen's Wharf and Frank Kitts Park are surrounded by fine buildings, including the Civic Centre, the modern City of Sea Bridge and the recent National Museum (1998). From Frank Kitts Park there is a good view of the nearby harbor. Features include a mast from the ferry Wahine that went down with 51 passengers in a storm in the harbor in 1968, and a bronze representation of the two ships in which Abel Tasman discovered New Zealand in 1642.
Related Attractions
Museum of New Zealand Te Papa Tongarewa
The city's latest attraction is the new Te Papa (Maori expression for 'our country') National Museum opened on the south side of the harbor in 1998 and showing multimedia and interactive displays of the country's history. Mountains to Sea explains how New Zealand was created; Awesome Forces features a multimedia presentation on earthquakes; On the Sheep's Back highlights the economic significance of sheep farming; The Time Warp gives a thrilling high-tech trip through time and space. The heart of the museum is formed by Te Marae, a modern Maori shrine, the Maori meeting place Te Wharenui and a giant canoe used as a Maori warship. The new museum complex also includes collections from the National Art Gallery and 19th C and 20th C works by artists from New Zealand, Australia and Europe. It also has some works by Rembrandt.
Museum of Wellington City & Sea (formerly Harbour Board Maritime Museum
The Wellington Harbour Board Maritime Museum closed on 13 September 1999 and reopened in an 1892 building under the name Museum of Wellington City & Sea. The museum explores the social and maritime history of Wellington.
Queen's Wharf Retail and Event Centre
The Queen's Wharf Retail and Event Centre offers various boutiques, bars and restaurants.
Map of Wellington Attractions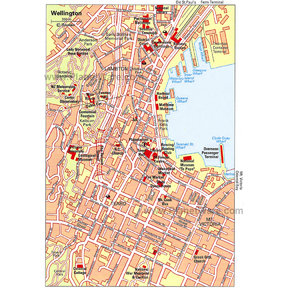 Wellington Map
More Wellington Attractions
Popular Destinations Nearby