Lincoln Memorial, Washington
The Lincoln Memorial contains a 19 foot (6m) tall, 19 foot (6m) wide marble statue of the 16th president along with excerpts from his famous speeches including the Gettysburg Address. There are 36 columns, each symbolizing one of the states in existence at the time of Lincoln's death.Although Congress approved the idea for a memorial to Lincoln in 1867 it wasn't until February 12, 1914 that construction began based on the design by New York architect Henry Bacon. It took eight years to build and President Warren G. Harding dedicated the memorial on May 30, 1922.Daniel Chester French designed the statue and the Piccirilli Brothers of New York carved it. Jules Guerin painted the murals that depict important events in Lincoln's life which are found on the north and south walls. Martin Luther King Jr. delivered his famous "I have a Dream" speech from the memorial steps in 1963.
Important Information:
Address:
West Potomac Park at 23rd Street NW, United States
Disability Access:
Full facilities for persons with disabilities.
Transit:
Metro: Foggy Bottom. Bus: 13's, 80.
Related Attractions
Arlington Memorial Bridge
The Arlington Memorial Bridge spans the Potomac River roughly in the point between the Lincoln Memorial and Arlington Cemetery. It was built 1926 to 1932 by the McKim, Mead and White architectural firm. It is 2,163 feet (655m) long and 90 feet (27m) wide with a 60 foot (18m)-wide roadway and 15-foot (4.5m) sidewalks. There are nine arches over the river and each of the 32-41 foot thick piers are carved with bas-relief eagles.
More Lincoln Memorial Pictures
Map of Washington, D.C. Attractions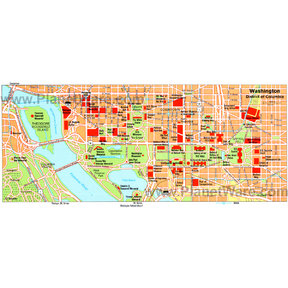 Washington, D.C. Map
More Washington, D.C. Attractions