Foggy Bottom Historic District, Washington
South of K Street NW between 17th and 25th Streets Northwest. Close to the banks of the Potomac River, this neighborhood was once the industrial center of Washington. Now is a more sedate area and home to the Kennedy Center, Constitution Gardens and the Department of State.The official extent of the National Register District are New Hampshire Avenue, 24th, 26th, H, and K Streets NW.
Foggy Bottom Historic District Map
Important Information:
Transit:
Foggy Bottom Subway Stop
Related Attractions
John F. Kennedy Center
The John F Kennedy Center has six different theaters for drama, ballet, music, film, comedy, dance and for special presentations. It is the headquarters of the National Symphony Orchestra, the Washington Opera and the American Film Institute. As well, it serves as the national memorial to President John F Kennedy.The modern architecture is simple with stone cladding on the exterior and elegant decorative touches on the interior
Department of State
The Department of State has been located in this building since 1947. It is the headquarters of part of the Executive Branch, responsible for designing and implementing U.S. foreign policy. The Diplomatic Reception Rooms of the Department of State are used for official functions. The rooms house a collection of 18th century American furniture, paintings and decorative arts.
Albert Einstein Memorial
This 12-foot seated bronze statue of Albert Einstein is located on the grounds of the National Academy of Sciences. The memorial honors the life of the famous physicist. The left hand of the statue features a paper with mathematical equations highlighting Einstein's most important scientific contributions.
Constitution Gardens
Constitution Gardens is a 52-acre park with a 6-acre lake and a 1-acre garden. Home to the Vietnam Veterans Memorial and the 56 Signers of the Declaration of Independence Memorial. Potomac Park was originally beneath the Potomac River until the Army Corps of Engineers created the land with a dredging project.
Memorial to the Signers of the Declaration of Independence
The Memorial to the Signers of the Declaration of Independence consists of large granite blocks carved with replicas of the 56 names on the Declaration of Independence.
Watergate Complex
Watergate Complex is the site of the infamous 1972 break-in that led to President Nixon's resignation. Today it is an apartment complex with a hotel, shops and offices.The curved modern architecture is of note, next to the JFK Center for the Performing Arts.
Foggy Bottom Historic District Pictures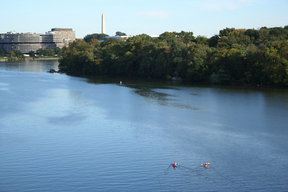 Map of Washington, D.C. Attractions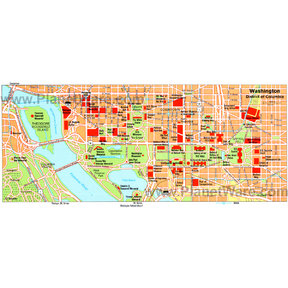 Washington, D.C. Map
More Washington, D.C. Attractions