Civic Center Historical District, Wailuku
Clustered around Main and High Streets and the Kaahumanu Church are four government buildings of note.The Wailuku Courthouse (1907) is neoclassical in design.The County Office Building (1927) is Mediterranean in style.The Wailuku Library (1928) and the Territorial Building (1931) use the Hawaiian style of architecture with a double-hipped roof. The architect on both was C.W. Dickey, who hails from Maui.As a group, they add an historic flavor to the area.
Related Attractions
Bailey House Museum
Bailey House Museum, the colonial-style house, built of lava rock and wood by missionaries in 1833 and added to in the 1850s, is now a museum run by the Maui Historical Society. It features Hawaiian culture and crafts as well as the artifacts of the New Englanders who came out to teach and convert the Sandwich Islanders.The Hawaiian room displays Kapa bedding and clothing made from pounded tree bark, carved wooden bowls, weapons, fishing gear, and other items of daily life. Upstairs are samples of Western furniture made of elegant Koa wood. There is also a collection of early paintings of Maui.Under cover in the gardens is a fishing outrigger which is rare in that it is made of a single Koa log.Historically, this land granted by the King to the missionaries continued as a school until the 1860s when the land reverted to the crown. At that time Edward Bailey bought the house and land and turned it into a sugar plantation. The Bailey House became a museum in 1991.
Kaahumanu Church
Near the Bailey House Museum stands Kaahumanu Church, which honors the memory of Queen Kaahumanu, favorite wife of Kamehameha I, who urged her people to banish idols and adopt Christianity.Use of this site for Christian worship dates from 1832 and parts of the present structure such as the belfry date from 1842. The rest of the building dates from 1876. The simple design with its clock tower is similar to those found in New England.
Map of Wailuku Attractions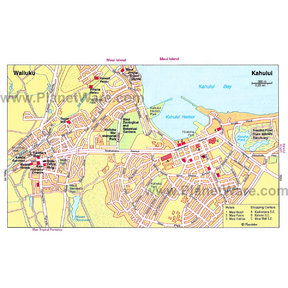 Wailuku Map
Popular Destinations Nearby