Kahala
Kahala enjoys a favorable climate and is noted for its particularly dry weather in contrast to the mountain slopes above Honolulu where, nevertheless, many groups of villas are located. Kahala is Honolulu's most exclusive address. It is the most delightful part of Honolulu with the most expensive houses in the city. The Kahala Mandarin Oriental, Hawaii is situated here (probably the quietest and most elegant hotel on Oahu) as is the Kahala Shopping Center (which is not very large but is up market).There is also Waialae Country Club with the finest golf course on Hawaii. This is, however, only open to club members. Growing against the fence that runs along Kealaolu Avenue, and which is intended to protect the golf course from the outside world, is what is probably Hawaii's longest hibiscus hedge.
Related Attractions
Diamond Head Crater
Diamond Head Crater, the extinct volcano's profile on the east end of Waikiki, perhaps more than anything symbolizes Honolulu.As a State Monument, however, the crater itself can be visited as a park and there is a stairway which takes visitors to a viewpoint overlooking Waikiki. Getting to Diamond Head Crater is interesting because one drives up the eastern side of the rock and then passes through a tunnel cut to connect the inner and outer sides of the rim.This jut of land or head was named when 19th century sailors though some of the crystals found here were diamonds.
Kahala Hotel and Resort (formerly Kahala Hilton)
The Kahala Hotel and Resort (formerly the Kahala Hilton which opened 1996) is used by prominent figures visiting Honolulu. Queen Elizabeth II, King Juan Carlos and Queen Sofia of Spain, Ronald Reagan and his wife (during the time of his presidency), Frank Sinatra, Michael Jackson, Prince Charles and Princess Diana have all stayed here. This, however, is only a small selection of the famous names in the visitors' book.The hotel is noted also for the dolphins which cavort in the pools on the landscaped grounds. Tasteful performances for guests are held during the day.
Map of Waikiki Attractions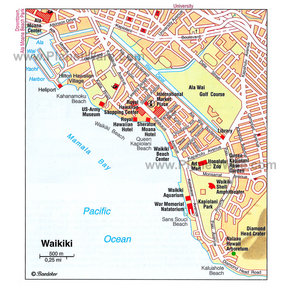 Waikiki Map
More Waikiki Attractions
Popular Destinations Nearby