Faaker See Lake
The Faaker See (2.4 sq.km/1 sq. mi) lies about 7km/4.5miles southeast of Villach, at the foot of the Mittagskogel (2,143m/7,033ft), before reaching the Karawanken. Measuring 2.6km/1.5mi long and 1.7km/1mi wide, the lake drains into the Gail. It is a favorite spot for water sports and bathing; in the summer temperatures up to 27 deg C/81 deg F are reached (bathing beaches and camping sites). Motor boats are not allowed on the lake. The lake provides facilities for fishing, swimming, sailing and surfing; there are also opportunities for riding, playing tennis, climbing and walking in the area. Group cycling tours are arranged in the region around the lake.
Related Attractions
Drobollach am Faaker See, Austria
The places surrounding the Faaker See are connected by a road which runs round it (some way from the bank). On a sun terrace on the northern bank lies Drobollach am Faaker See (490m/1,608ft). It has hotels with their own private beaches and guesthouses which are very suitable for a family holiday.
Faak am See, Austria
On the southwest bank of the Faaker See lies Faak am See (560m/1,838ft; pop. 300); on the island in the lake is a modern hotel and bathing beach. Faak has an interesting Gothic church with a massive tower and two pointed doorways. Faak is also the starting-point for some mountain climbs of varying difficulty.
Egg am Faaker See
Egg (580m/1,904ft; pop. 300) stretches along the northern bank of the lake with good bathing beaches. There are fine stained-glass windows in the church. From Egg you can drive up the Tabor (725m/2,379ft) for the view.
Seeleitn
Near Neuegg is the holiday village of Seeleitn. It consists of 24 old farmhouses (15th-18th C.) which have been transported here and fitted with all modern conveniences and which can be rented as holiday cottages. Tenants have the use of a small golf course, a bowling alley, a sauna and an open-air swimming pool. Nearby lies the holiday village of Schönleitn.
Map of Villach Attractions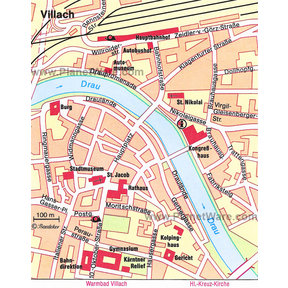 Villach Map
More Villach Attractions
Popular Destinations Nearby