Virgilian Chapel, Vienna
This extraordinary relic of Vienna's medieval past, which also houses a collection of historic Viennese ceramics, is open to the public. A comparison of architectural features - for example, the zig-zag motif on the rounded cross directly below the niche vaulting is similar to that on the Giant Gate of St Stephens's Cathedral - has enabled experts to date the chapel as 13th C. This subterranean room of niches was probably planned as a mausoleum and belonged to the Chrannest family from the early 14th C. It was their family vault in which they erected altars, the most important of which was dedicated to St Virgil.
Important Information:
Address:
1 Stephansplatz, Austria
Opening hours:
10am-12:15pm, 1pm-4:30pm; Closed: Mon
Disability Access:
Full facilities for persons with disabilities.
Transit:
U1, U3: Stephansplatz.
The fact that such a monumental vault belonged to a family without rank is somewhat puzzling. It is possible that the chapel was built by Duke Frederick the Quarrelsome (who wished to have Vienna created a bishopric) as a crypt for the bishop of the new diocese. The Duke died before his plan was realized - it was 1469 before Vienna became an independent diocese - and so the Chrannest family were able to buy the vault. After the last of the family had died the chapel became the seat of newly-formed religious brethren (the Gottleichnamsbruderschaft and the Kaufmannsbruderschaft) in the early 16th C. In the 16th and 17th C. it again became a place of burial. The subterranean vault was abandoned when the remains of the Chapel of Mary Magdalene were cleared away in 1781. The Virgilian Chapel is rectangular, 10.5m/35ft long and 6m/20ft wide. It was 13.5 /45ft high; today its clay floor lies 12m/40ft below street level. The entrance was probably via a trap door in the floor of the chapel above.
Map of Vienna Attractions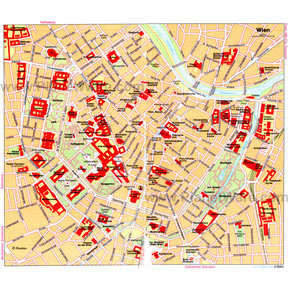 Vienna Map
More on PlanetWare