Servitenkirche, Vienna
The Servites' (or "Servants of Our Lady") Church, dedicated to the Annunciation, was founded by Field-Marshal Octavio Piccolomini, one of the leaders of the Wallenstein Conspiracy. It was built by Carlo Carnevale between 1651 and 1677; Piccolomoni died in 1656 and so did not live to see the work completed. The Servites' Church is the earliest building in Vienna based on a central oval form with its main nave elliptical in shape.
Important Information:
Address:
Servitengasse 9, Austria
The transept houses wide, rectangular chapels and in the diagonal corners there are small, semicircular altar niches. In the narthex can be seen two large 17th C. Baroque figures and a magnificent wrought iron trellised screen dating from c. 1670. The rich stucco decoration is by Giovanni Battista Barbarino (1669) and Giovanni Battista Bussi (1723-24). Near the 19th C. High Altar can be found a late 15th C. wooden crucifix from the "Raven Stone", the site of executions in days gone by. The carved figures of the Four Evangelists and the Three Virtues on the pulpit of 1739 are by Balthasar Moll. Field-Marshal Octavio Piccolomini (d. 1656) lies buried in front of the altar in the middle chapel on the left hand side; there is no gravestone. The Peregrini Chapel was built on to the middle chapel on the right in the 18th C.; its fine Roccoco ironwork and the frescoes in the dome are the work of Josef Mölk (1766). The Tower Chapel on the right leads through to the little Chapel of the Poor; its altar painting is attributed to Martin J. Schmidt. The Tower Chapel on the left leads to the Lourdes Grotto.
Map of Vienna Attractions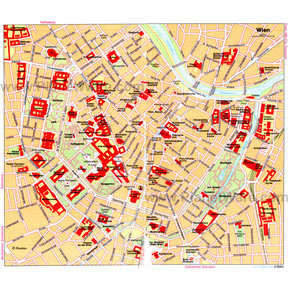 Vienna Map