Schottenkirche, Vienna
In the 12th C. Irish monks were invited to come to Vienna fom Regensburg. At that time Ireland was known as "New Scotland" and this is why the church dedicated to Our Lady which was built for Irish Benedictines came to be called the "Scots Church". It has been in the possession of the German Benedictines since 1418. The Scots Monastery was founded by the Babenberg Duke Heinrich Jasomirgott in 1155, and work on construction of the buildings began in 1177.
Important Information:
Opening hours:
10am-5pm; Closed: Sun
The church was rebuilt in the Gothic style in the 14th and 15th C. It was altered and given a Baroque appearance by Andrea Allio and Silvestro Carlone in the mid-17th C, and restored again in the 19th C. There is a memorial to its founder on the facade. In the interior there are altar pieces by Tobias Pock (1651-55), Joachim Sandrant (1652-54) and August Eisenmanger (1887-88). The finest is the "Apostles' Departure" (near the Imperial Oratory). The Baroque memorial on the right behind the Penitents' Chapel was designed by J. E. Fischer von Erlach and is dedicated to Count von Starhemberg, who defended Vienna against the Turks. The High Altar, dating from 1883, was the last work by Heinrich Ferstel. The altar piece in the Lady Chapel has the oldest votive painting of the Virgin in Vienna. In the Crypt Chapel, which was converted into vaults in 1960, lie the founder of the church, Heinrich II Jasomirgott, his consort Theodora and his daughter Agnes, Count Rüdiger von Starhemberg (d. 1701) and the Baroque artist Paul Troger (d. 1762).
Related Attractions
Abbey of the Scots
The Schottenstift (Scots Foundation) at Freyung 6 is linked to the Schottenkirche by the Schottenhof. It boasts a famous secondary school and an important picture gallery. The Foundation Bull dates from 1161, and the abbey was ceded to the German Benedictines in 1418. The buildings date from the 12th C. but were extensively renovated in the 17th C. and enlarged in the 18th C. In 1832 they were rebuilt by Josef Kornhäusl in simple Classical style. Pupils of the school included the writers Bauernfeld, Nestroy, von Saar and Hamerling. the "Waltz King" Johann Strauss and the painter Moritz von Schwind. Austria's last Emperor, Charles I, also attended this school, as did the founder of Austrian Social Democracy, Viktor Adler. The collection of pictures here has been in existence for more than 250 years. As well as works from the 16th to the 19th C. there are in the chapter house 19 pictures from the famous Late Gothic winged altar of 1469-75, which was painted by two "Scottish Masters" and originally stood in the Schottenkirche. The oldest surviving views of Vienna can be seen in the backgrounds to these pictures.
Map of Vienna Attractions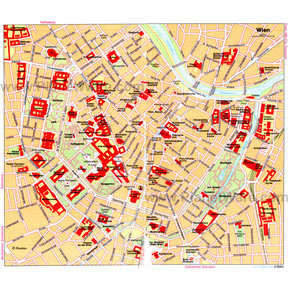 Vienna Map