National Theater, Vienna
Burgtheater
This theater, "Die Burg" as the Viennese call it, is the stage with the richest traditions in the German-speaking lands. For a long time it was also the most important. The Classical style of the Burgtheater and the German spoken by the players exerted a decisive influence on the development of the German stage, and even now an engagement to play at the Burgtheater is still a high point in the artistic career of an actor or actress.
Important Information:
Address:
Dr Karl-Lueger-Ring 2, A-1010 Vienna, Austria
Opening hours:
Always closed on:
Christmas Eve - Christian (Dec 24), Good Friday - Christian
Many famous names have played here. The theater was founded by Emperor Joseph II in 1776 as a "Court Theater" intended to be a National Theater. It was later called the "Court and National Theater" with "Imperial Royal Court Theater" above the entrance. In 1888 a new theater was built on the instructions of Franz Joseph I on the Ring to designs by Hasenauer and Semper for the huge sum of 10 million guilders. When the Viennese voiced criticisms of the new theater, Gottfried Semper retorted that "every theater has to be rebuilt after 60 years or it is bound to burn down after that period". Right on time the Burgtheater was burned down within 57 years, when it caught fire in 1945. The auditorium was completely destroyed, and it was not until October 15 1955 that the theater could reopen with Grillparzer's "König Ottokars Glück und Ende" (King Ottokar's Prosperity and Demise). The building is 136m/445ft long and the middle section is 95m/320ft across. The height of the facade is 27m/88ft. In the auditorium there are seats for 1,285 and standing room for 105. The season runs from September to June. The exterior of the Burgtheater is impressive on account of the numerous decorative figures, colossal groups, scenes and busts by the sculptors Tilgner, Weyr and Kundman. The interior has costly decoration in the French Baroque style. The staircase has frescoes by Gustav and Ernst Klimt and by Franz Matsch.
Map of Vienna Attractions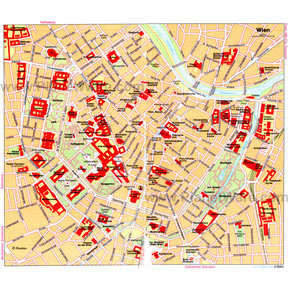 Vienna Map