Museum Quarter, Vienna
On the southwest side of Maria-Theresien-Platz lie the former Imperial Stables. Built in 1723-25 to plans by J. B. Fischer von Erlach and his son, and measuring 360m/1,180ft in length, they formerly housed the carriages and horses belonging to the royal court. After being converted on several occasions the buildings finally served as exhibition halls for a number of years until 1994. At present a new Museum Quarter, designed by Ortner & Ortner, is being built behind the listed facade; it will be used for contemporary, inter-disciplinary art and cultural activities. On completion, which is planned for 1999, the new quarter will house the Museum Moderner Kunst/Stiftung Ludwig Wien, an Art and Events Hall run by the Vienna city council, a Children's Museum, a Gallery and Architectural Center and the new Leopold Museum.
Address:
Museumsplatz 1, A-1070 Vienna, Austria
Related Attractions
Leopold Museum
At a cost of almost £160million/US$240million the Austrian government purchased in 1994 the largest private art collection in the country from the Viennese eye specialist Prof. Dr Rudolf Leopold. Until now this collection, which includes examples of Austrian art from 1880 until the First World War, had been exhibited only in parts; it comprises some 600 oil paintings, more than 3,000 water colors, drawings and prints, about 300 items of furniture, including wotk by Wagner, Hoffmann, Loos and Moser, craftwork from Viennese studios, together with examples of Viennese Art Nouveau and Art Déco. The core of the collection is composed of works by pre-war Austrian modern artists such as Egger-Lienz, Boeckl, Faistauer and Walde, and those of the late 19th C. including Romako, Schindler, Jetl, Schuch, Pettenkofen and Gauermann. Leopold's Schiele Collection is known worldwide and includes 47 works by Early Expressionists, including "Dead Mother I" (1910), "The Hermits" (1912; portrait of Klimt and Schiele in monk's habits) and expressive nude self-portrayals. Klimt is represented with 10 paintings, including "Death and Life", and some 100 drawings; other highlights are works by Gerstl such as "Self-portrayal half-nude against a blue background" (1910) and several masterpieces by Kokoschka, including "Self-portrait, with the hand placed on the face" (1918/19) and "Dolomite landscape with the Cima Tre Croci" (1913). There are also nearly 160 canvases by Kubin. Among foreign modern classical works are "Three nudes in a studio" (1912) by Kirchner, a late portrait by Corinth and early drawings by Beckmann.Netsuke and Japanese wood-carvings, porcelain by Rainer, medieval sculptures and African objects complete the collection. So that the collection can be kept together there are plans to provide it with its own building within the Museum Quarter, which will be managed by the patron himself.
Austrian Tobacco Museum
The Tobacco Museum (Tabakmuseum) is housed in a side wing when the Museum Quarter is completed it will be moved to the front. The collection belonging to Austria Tabak (the state monopoly which has been in existence since 1784) contains some 2,500 exhibits pertaining to smoking and tobacco worldwide. On display are smoking utensils used by emperors, kings and statesmen, magnificent meerschaum pipes made in Vienna - at the turn of the century there were still more than 400 skilled workers employed in carving these pipes - South American clay pipes, kif pipes from Morocco, yellow-glazed pipes from the Cameroons and the Upper Volta, silver pipes from Thailand as well as opium pipes from China and Vietnam, to mention only a few.
Map of Vienna Attractions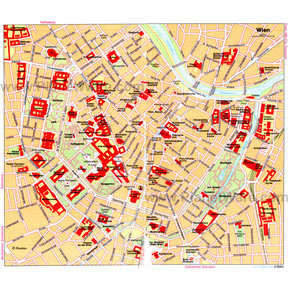 Vienna Map