Leopoldstadt, Vienna
Leopoldstadt, as District 2 of Vienna is known, together with Brigittenau (District 20), forms an island running from northwest to southeast between the Danube Canal and the river. In pre- Revolutionary Vienna Leopoldstadt was the city's "leisure center", boasting the best and largest dance halls (Sperl and Odeon), while its economic importance lay mainly in the spheres of commerce and finance - the first Viennese savings bank was established here in 1819.
In 1865 the Nordbahnhof (North Station) was opened and soon became very important as the major station where immigrants arrived; in 1873 the Nordwestbahnhof took its place. Almost 60% of the old suburb, where most immigrants from Bohemia and Moravia arrived, is now covered in green spaces and lakes. A port, exhibition grounds, a sports center and the Prater nature park having become established here, Leopoldstadt has become an important center, while diverse classes and groups of society - upper, middle and working-class, civil servants and self- employed, locals and foreigners - are all closely integrated here.
Related Attractions
Leopoldstadt (Soap Boiler's house)
Since 1991 one of Leopoldstadt's oldest buildings, the "Seifensiederhaus" (Soap Boiler's House) at Grosse Sperlgasse 24, first mentioned in the records in 1685, has been the home of the Vienna Criminal Museum. The history of crime in Vienna from the end of the Middle Ages until the present day is documented in exhibits housed in 20 rooms. The exhibits cover the judiciary, criminal law reforms and public executions, the assassination attempt on the life of Emperor Franz Joseph in 1853, spectacular police arrests and infamous criminals such as the poisoner Hofrichter and Hugo Schenk, the poet and murderer of young girls. The gruesome curiosities include a wheel on which criminals had their bones broken before they were executed, pieces of equipment from a sadistic 19th C. exhibition, objects from a secret late 19th C. bordello, forgers' utensils, wax reconstructions of murder victims as well as photographs, large quantities of evidence material and detailed press reports on more than 300 criminal cases.
Map of Vienna Attractions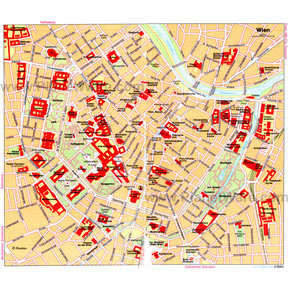 Vienna Map