Franziskanerplatz, Vienna
Franziskanerplatz with the Franciscan monastery and church has 17th and 18th C. buildings all round and is one of the most attractive squares in Vienna. The Moses Fountain, with its jaws like the base of a lion, used to stand in the courtyard of No. 6 "Zum grünen Löwen" (The Green Lion). Johann Martin Fischer designed the lead statue of Moses striking water from the rock. In 1798 it was placed on the base of the fountain which had been brought here. The country coaches used to set out from the former "Zum grünen Löwen" in the days of Emperor Joseph. It was possible to travel 160km/100mi and more out of the city into the country by these coaches. Nowadays people meet in the little cafe for a chat or coffee while shopping.
Related Attractions
Franciscan Church - Church of St Jerome
The Church of St Jerome at present standing on this idyllic old-world square (Franziskanerplatz) is the only church in Vienna to possess a Renaissance facade. The interior is, however, decorated and fitted out in Baroque style. A 14th C. Poor Clares convent formerly occupied the site where this church was constructed between 1603 and 1611. Father Bonaventura Daum was responsible for the designs of the new building. The tower was added in 1614. In the interior the High Altar by Andrea Pozzo dating from 1707 is particularly notable as is a venerated picture of the Madonna and Child from about 1550 which probably came from Grünberg in Bohemia. Behind the altar is the monks' choir which is reached by passing through the sacristy. The Capristan Altar (second altar on the left) has a painting the "Martyrdom of St Capristan" by Franz Wagenschön. The Francis Altar (fourth altar on the left) contains a picture of the church's patron saint by Johann George Schmidt, and on the Crucifixion Altar (third altar on right) is a "Crucifixion" by Carlo Carlone (first half of the 18th C.). The carved Baroque organ of 1643 is the oldest organ in Vienna. It has folding doors which are in part painted, in part carved, with the figures of saints on them. According to legend, the Madonna on the reredos, popularly called the Madonna with the Axe, was being struck down by iconoclasts, but the axe remained firmly attached. Soldiers took this indestructable image of the Virgin with them on their campaign against the Turks and ascribed to it their victory at Pest in Hungary.
Franziskanerplatz Pictures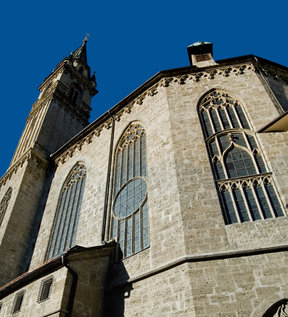 Map of Vienna Attractions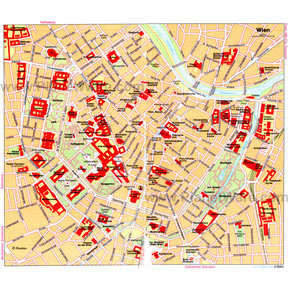 Vienna Map