Torcello Island
Torcello is the real precursor of Venice. It was founded on the island as early as the seventth century and in the 12th century was a flourishing commercial town with palaces and churches, shipyards and docks, its own nobility, its own laws and a large population. The large town has vanished leaving only two churches and a handful of houses dotted over this large island.The cathedral serves as the main proof of its former importance.
Related Attractions
Santa Maria Assunta
Dedicated in 639 to Santa Maria Assunta, the cathedral is probably the best example of the Venetian-Byzantine style of architecture. Reconstructed in 834 and 1008, the portico and the two lateral apses were added in the ninth century; the main fabric of the building dates from the 11th century.The cathedral contains some beautiful mosaics.Interior of the cathedralRight side-chapelsThe oldest mosaics are in the chapel to the right of the High Altar. The angels carrying a medallion with the Lamb of God are still strongly marked by Byzantine influence (11th century; vaulting of the apse). The Fathers of the Church, Gregory, Martin, Ambrose and Augustine were added later, as was the "Christ in Majesty between two Archangels" (concha of the apse).Main apseThe mosaics in the main apse date from the 12th century: the Virgin and Child above a frieze of the Twelve Apostles standing among flowers, all on a gold ground.West sideThe west wall of the cathedral is covered by the tiers of a Byzantine mosaic of the Last Judgment dating from the late 12th or early 13th century.Top tier: Christ at the shattered gates of Limbo.Second tier: Christ as Judge of the World.Third tier: Christ enthroned with the Archangels Michael and Gabriel, and Adam and Eve (kneeling); also angels sounding the trumpets heralding the Last Judgment (at the sides).On either side of the door: the Blessed (clothed), the Damned (naked).Other points of interest:The rood-screenThe upper part is decorated with pictures representing the Virgin and the Twelve Apostles, while the lower part has reliefs with representations of peacocks and lions.The High AltarThis dates from the seventh century and was restored in the early 20th century. Also of interest are the iconostasis (15th century), the mosaic floor (11th century) and the pulpit (assembled in the 13th century from earlier fragments).
Santa Fosca
The small Church of Saint Fosca adjoining the cathedral is centrally planned and purely Byzantine. Dating from the 11th century it has a portico on five sides and its interior is of unusually harmonious proportions.
Museo dell'Estuario Torcello
Exhibits concerning history of Torcello from antiquity to 16th century.
Map of Venice Attractions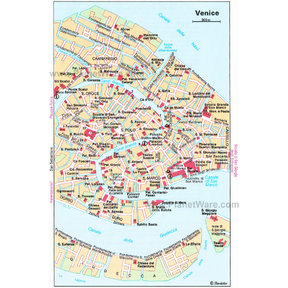 Venice Map