San Giorgio Maggiore Island
The American Henry James once wrote of the island that it has "a success beyond all reason". The island owes its beauty mainly to its position and to the genius of the Venetian architects. The first church was built in 790, and two hundred years later the Benedictine monastery was added. Both buildings were destroyed by an earthquake. The monastery was rebuilt and in the 16th century.
Related Attractions
San Giorgio Maggiore Church
The first church of San Giorgio Maggiore was built here about 790. The present building dates from 1566. It was begun by Andrea Palladio but was not completed until 1610, thirty years after his death, by Scamozzi. The present bell tower dates from the 18th century. It is well worth taking the lift to the top as from the platform there is a marvelous panoramic view of the city and the lagoon (entrance to the left of the monastic choir).The most important painting in the church is "The Shower of Manna" by Tintoretto in the Presbytery. The High Altar is the work of Girolamo Campagna, a pupil of Sansovino (late 16th century).
Map of Venice Attractions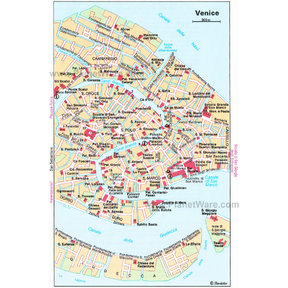 Venice Map