Procurators Office, Venice
Procuratie
The north and south sides of the Piazza di San Marco in Venice are bordered by the Procuratie, the former offices of the Procurators of San Marco, the chief officials of the Republic. Today the buildings house, amongst other things, the Museo Correr together with the Museo del Risorgimento and the Museo Archeologico.There was a Procurator as early as the 10th century.
After the Doge, he was the most important man in the State and was answerable to no one, not even the Great Council. The Procurator was the "Custodian of St Mark", of the wealth that accumulated in the coffers of the Basilica di San Marco as a result of public and private gifts, bequests and regular income. The sums in question were enormous, since a donation was always made to St Mark as a matter of course in thanksgiving for a successful and profitable enterprise.It was with this huge fortune that the State financed all that it owned, the construction of San Marco and every one of its welfare institutions: hospitals, alms distribution, hostels for the homeless, homes for the aged and orphanages - institutions that guaranteed even the poorest the means of subsistence.It soon became impossible for one person to shoulder alone the burden of the work that came to be involved in administering the public purse; in the 13th century there were four Procurators, in 1319 six and in 1442 nine.
Related Attractions
New Procurators Offices
When even the enlarged Procuratie Vecchie became too small the building of the Procuratie Nuove was begun in 1582 on the south side of the Piazza di San Marco. The architect Vincenzo Scamozzi used Sansovino's library as a model, adding another storey and topping it with a cornice (instead of a balustrade). Baldassare Longhena completed the building in 1640 in accordance with Scamozzi's original plans.Today the former official residence of the Procurators houses the Museo Civico Correr, where the magnificent official robes of the Procurators can be seen, the Museo del Risorgimento and the Museo Archeologico.Between 1805 and 1814 Napoleon lived in the Procuratie Nuove whenever, in his capacity as "King of Italy", he visited Venice, his second Italian seat of residence after Milan.
Old Procurators Offices
In 1204 there was a two-story building on the present-day site of the Procuratie Vecchie. The present three-story building dates from between 1480 and 1517; the architect was Mauro Codocci and the building work was completed by Bartolomeo Bon. It is a very fine example of Venetian Early Renaissance architecture and has arcades along the length of its facade (150m/164yds) - 50 on the ground floor and 100 on each of the upper floors.
Map of Venice Attractions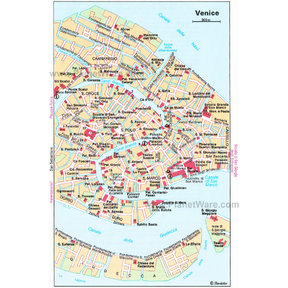 Venice Map