Golden House, Venice
Ca' d'Oro with the Galleria Franchetti
Ca' d'Oro is Venetian Gothic at its most perfect. Originally richly painted and gilded - hence its name - it has lost its gilding but the marble filigree-work of Bartolomeo Bon (who also built the Porta della Carta in the Palazzo Ducale dating from between 1421 and 1440 is still of unrivaled beauty. The interior provides a vivid impression of how Venetian nobles lived in the late Middle Ages.
Important Information:
Address:
Calle Ca'd'Oro, I-30100 Venice, Italy
Opening hours:
8:15am-7:15pm; Mon: 8:15am-2pm
Always closed on:
New Year's Day (Jan 1), May Day / Labor Day (May 1), Christmas - Christian (Dec 25)
Useful tips:
Photography prohibited.
The mosaic on the ground floor, a copy of the one in the basilica of St Mark, is also worth seeing.There is a red marble well in the courtyard with allegories of Strength, Justice and Mercy.The palace houses the Galleria Franchetti art collection, given to the State in 1922 by the savior of the Ca' d'Oro, Baron Giorgio Franchetti. Extensive restoration work (1969-84) has not altered the character of the private collection. The exhibits do not give the impression of being in a museum, but rather complement the historical setting of the palace.Among the many fine paintings of various schools are Titian's "Venus before the Mirror", "Venus and Cupid" by Paris Bordone (16th century), "Portrait of a Nobleman" by van Dyck (1622-27) and the unfinished "St Sebastian" by Mantegna (c. 1500).Marble busts, bronzes and terracottas by Bernini, Giambologna, Tullio Lombardo, Ricci, etc. complete the collection. In addition there are fragments of frescoes by Giorgione and Titian which once adorned the façade of the Fondaco dei Tedeschi.
Golden House Pictures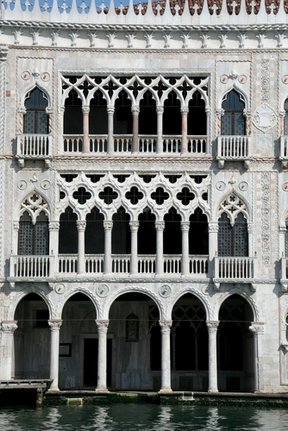 Map of Venice Attractions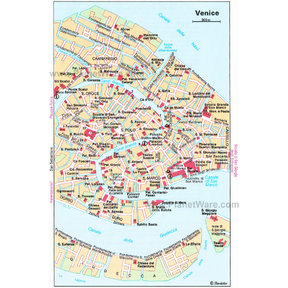 Venice Map