Ghetto Nuovo, Venice
From 1090 Jews, who were not allowed into Venice itself, settled on the island of Spinalonga, later named Giudecca.In 1395 the Jews quarreled with the Christian population and had to leave Giudecca for Mestre.In 1509, during the war against the League of Cambrai, they fled the flames of Mestre for the island city.
In 1516 the Senate allocated the site of a former iron-foundry, The Ghetto Nuovo, to the German and Italian Jews for living quarters. In 1541 the Jews arriving from the East were settled in the Ghetto Vecchio. The word "ghetto" is said to be derived from "gettare" - to cast in metal - and this district was named after the original foundries.In 1633 this enclosed Jewish quarter was enlarged to include the Ghetto Nuovissimo (the "newest" ghetto).The Jews were allowed only limited freedom of movement in the city, they had to wear red or yellow hats and were not allowed to acquire land. The gates of the ghetto remained locked from dusk until dawn. Infringements were punished by the Senate with large fines.As decreed by the Senate, Jews were mostly dealers in second-hand goods and - subsequently - doctors.Space was at a premium in the ghetto so that houses as high as seven or eight storys are not uncommon. The facades are plain, almost shabby.It is, however, worth going inside the synagogues:The Scuola Grande Tedesca (The Great German School) has been renovated and is now an intimate Baroque room with an oval gallery (an elegant way of compensating for the irregularity of the ground-plan) and some very fine individual pieces.The Scuola Canton (Canton School) is the richly ornamented private house of prayer of the German-Jewish Canton family who made their fortune as bankers.Another synagogue is the Scuola Italiana (Italian School).The Scuola Levantina (Levantine School) is decorated with a pulpit by Andrea Brustolon (1662-1732)The Scuola Spagnola (Spanish School) has a magnificent room created in the 17th century by Baldassare Longhena, the most important exponent of the Venetian Baroque style (his best-known work is Santa Maria della Salute).
Ghetto Nuovo Highlights
Museum of the Jewish Community
It is also worth paying a visit to the Museo della Comunità Israelitica (Museum of the Jewish Community). This small but interesting museum, attached to the Scuola Granda Tedesca, contains objects used in worship, manuscripts and documents on the history of the Jews of Venice.
Memorial Tablet
At the Campo de Ghetto Nuovo a memorial tablet and bronze reliefs commemorate 200 Jewish inhabitants who, between December eighth 1943 and August 17th 1944, were taken away to Nazi concentration camps and murdered.
Map of Venice Attractions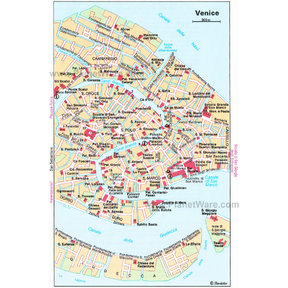 Venice Map