Correr Museum and Risorgimento Museum, Venice
Museo Civico Correr et Museo del Risorgimento
The Correr Museum consists of an interesting collection illustrating the history of Venice, and an important collection of paintings. The main section covers both floors of the Procuratie and the entrance is in the passage in the Ala Napoleonica.The Flemish masters are represented by Hugo van der Goes, Dirk Bouts, Rogier van der Weiden and Pieter Brueghel.They have an important collection of early lace, silk banners, costumes and accessories from the 16th through the 18th centuries.
Correr Museum and Risorgimento Museum Map
Important Information:
Address:
Piazza San Marco, I-30124 Venice, Italy
Opening hours:
Apr 1 to Oct 31:
9am-7pm
Nov 1 to Mar 31:
9am-5pm; Closed: Tue
Always closed on:
New Year's Day (Jan 1), Christmas - Christian (Dec 25)
Entrance fee in EUR:
Adult €11.00, Concession or reduced rate €5.50
Useful tips:
Last admission one hour before close. Photography prohibited.
Correr Museum and Risorgimento Museum Highlights
Historical Collections
The first floor is devoted to the historical collections (Rooms 1-14): documents etc. illustrating the architectural development of the city (Room 1); paintings of scenes from the history of Venice, documents on the development of the State coat of arms, the history of the Doges and the political institutions (Rooms 3-10); State robes of the Doges, Procurators and Senators, a large collection of Venetian coins; finally, documents, etc. illustrating the history of Venetian shipping.
Art Gallery
The second floor houses an art gallery with paintings from the 14th to the 17th centuries, including works by Lorenzo Veneziano, Jacobello del Fiore, Cosmè Tuba, Antonello da Messina, the Bellini brothers, Alvise Vivarini and Carpaccio.
Related Attractions
Museo del Risorgimento
The Museo del Risorgimento adjoins the Museo Civico Correr and contains documents and illustrations of Venice's struggle against Austria, the 1848 Revolution led by Daniele Manin, and union with the kingdom of Sardinia-Piedmont in 1866.
Map of Venice Attractions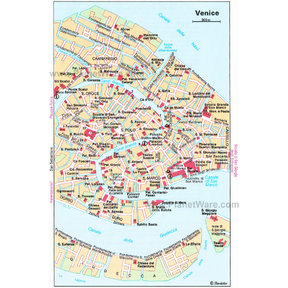 Venice Map