University of British Columbia, Vancouver
From the end of 4th Ave. North West Marine Drive continues past delightful stretches of beach along the south side of English Bay to the University of British Columbia at Point Grey. The extensive 2470 ha (6100 acre) campus of the University of British Columbia is also the site of the its renowned Anthropological Museum, housed in a quite exceptional building designed by Arthur Erickson.
University of British Columbia Map
Important Information:
Address:
2329 West Mall, Vancouver, BC V6T1Z4, Canada
The many items of Indian culture on display include totem poles, carved wooden posts from long-houses, and sculptures by the Haida woodcarver Bill Reid. These are augmented by glass cabinets filled with eye-catching masks, textiles, jewelry and smaller objects of wood, bone, horn, ivory and argillite - eloquent testimony to the highly developed skills and artistry of Indian craftsmen. Completing the collection are anthropological exhibits from all over the world. Visitors are recommended to join one of the theme-related guided tours.More Indian totem poles and long-houses, etc. can be seen in the museum grounds.
Related Attractions
Museum of Anthropology
The Museum of Anthropology, (MOA) is part of the University of British Columbia. The museum deals with cultures from around the world but places particular emphasis on the British Columbia First Nations and displays native art including large totem poles.The MOA houses a huge collection of ethnographic and archaeological objects representing East and South Asia, the South Pacific, the Americas, Africa, and Europe.
UBC Botanical Garden
On North West Marine Drive is the University of British Columbia's botanical garden, divided into sections to facilitate teaching and research. Among the highlights are the austere, contemplative Nitobe Japanese Garden (with pretty tea-house) and a gem of a herb garden established more than a century ago.The UBC Botanical Garden dates to 1916 when it was developed to research British Colubia flora. Today it is a leader among university botanical gardens with research in a host of areas.
Greenheart Canopy Walkway
The canopy walk is part of the David C. Lam Asian Garden. This aerial trail allows visitors an incredible perspective of the forest as they walk through the various levels. Visitors need to wear closed in shoes (flip flops and sandals are not allowed) and children need to be able to walk on their own.
Map of Vancouver Attractions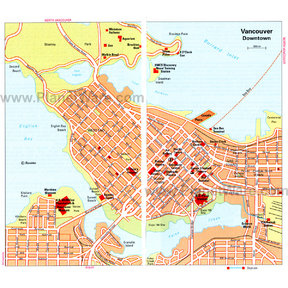 Vancouver Map
More Vancouver Attractions
Popular Destinations Nearby