Robson Street, Vancouver
Robson Street in Vancouver always seems to be busy, attracting the crowds with its high-class boutiques and galleries (Indian arts and crafts) and huge range of restaurants and shops selling goods from all over the world. The two blocks between Burrard St. and Bute St. are known locally as "Robsonstrasse" because many of the shops were at one time German-owned.Robson Street is so popular there are often traffic jams along here on summer evenings as people drive by to see what's happening on the street. This area is fun both day and evening.
Related Attractions
Robson Public Market
Robson Public Market is a covered market on the corner of Robson Street and Cardero Street. It was obviously influenced by London's Crystal Palace. A variety of nationalities are represented among the several small restaurants serving fast food on the first floor of Robson Market.The market is a modern glass building with a variety of products, including fruits, vegetables, meats and specialty shops selling all kinds of goods. The Robson Public Market is a great place to stop on the way home to pick up something fresh for dinner.
Robson Square
Right in the center of Vancouver the Robson Square complex extends across three blocks between the old court-house (now the Vancouver Art Gallery) and the seven-storied glass pyramid housing the new court-house (designed by the Vancouver-born architect Arthur Erickson and built in 1979). Various government departments occupy the different levels in the complex. With roof garden terraces, small waterfall, pond and well-designed foyer the Square lends itself to open-air events in summer.Off Robson St. there is a wide shopping concourse with restaurants, outdoor cafés and roller skating rink (ice skating in winter).

Vancouver Art Gallery
The excellent collection of paintings by Emily Carr (1871-1945) ranks high among the attractions of the Vancouver Art Gallery at the northern end of Robson Square. One of the best-known of all Canadian artists, much of her work depicts scenes of British Columbia and reflects her fascination with the art and culture of Canada's North-west Coast Indians.The Vancouver Art Gallery is also known for it's focus on contemporary visual art and has acquired works by Stan Douglas, Jeff Wall, and Ian Wallace, among others. The gallery also has collections by renowned international artists.However, as the leading art gallery in western Canada, the Vancouver Art Gallery is best known for hosting temporary national and international exhibits.
Map of Vancouver Attractions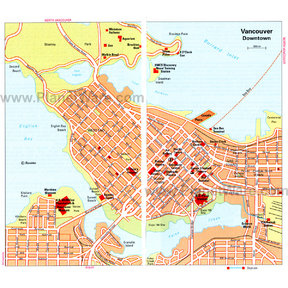 Vancouver Map
More Vancouver Attractions
Popular Destinations Nearby