Howe Sound
From Horseshoe Bay Hwy. 99 runs along the east side of Howe Sound, its route blasted directly out of the rock in places. The scenery here is exceptional.Views look out over the ocean and mountains.
Related Attractions
Squamish, Canada
In its spectacular setting at the head of Howe Sound the old logging town of Squamish is the destination for excursions aboard the Royal Hudson Steam Train and the M.V. "Britannia". The trunks of trees felled in the Squamish Valley are rafted together here before being towed down to Vancouver.The first Europeans to arrive (in 1888) were quick to appreciate the value of the sheltered harbor, and consequently founded a settlement around it. Until 1956 when the line was extended as far as Vancouver, Squamish was at the southern end of the Pacific Great Eastern Railway from Prince George (operated today by B.C. Rail). There is a small museum devoted to the Squamish Valley in old Brightbill House.Guided treks on horseback into the still largely undeveloped interior are another much indulged form of recreation.Flights over the ice-fields and glaciers of the Coast Mountains can be arranged from Squamish Airport (with a landing on the remote glaciers one of the highlights).The town's annual Squamish Days (at the end of July/beginning of August) are to all intents and purposes a full-scale international lumberjacks' championship. Teams come from all over the world to compete in the traditional logging contests.
Stawamus Chief Provincial Park
A popular challenge for rock climbers, the "Stawamus Chief" is a 510 m / 1673 ft high granite monolith.Stawamus Chief Provincial Park encompasses the granite cliffs that dominate the scenery around Squamish on the Sea to Sky Highway. There are hiking trails in the park leading up "the Chief".
West Coast Railway Heritage Park
West Coast Railway Heritage Park is an outdoor museum with Western Canada's largest collection of Heritage Railway equipment. Over 60 railway heritage pieces from early 1900s onward. A sleeping caboose, bunk cars as well as steam and diesel locomotives are on display. The Town centre features Brightbill Heritage House and the Squamish Station, designed in 1915 but not built until 2000.
Shannon Falls
The Shannon Falls are located about 3 km (2 mi.) south of Squamish.It is the third highest falls in British Columbia at 335m. Shannon Falls Provincial Park is easy to access, just off Highway 99, with a large parking area and easy walking trail that leads to the base of the falls.
Map of Vancouver Attractions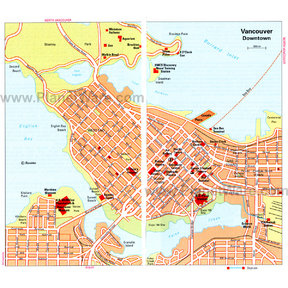 Vancouver Map
More Vancouver Attractions
Popular Destinations Nearby