March 15th Square, Vác
Március 15 tér
The triangular "March 15th Square" (outbreak of the Hungarian revolution in 1848) was the center of the Baroque town and site of the market until it was redesigned in 1951. The surrounding Baroque and 18th C plait style houses create an idyllic ensemble. The square itself is somewhat sunken with ornamental paving stones, four Baroque sculptures and a fountain.
The town hall (No. 11), a Baroque building, was built in 1735-69 on the site of a Turkish bath. Above the handsomely shaped entrance is a pleasing wrought-iron grille and a group of figures. In the 18th C two medieval houses were joined together and underwent alteration to become the first bishop's palace (No. 6), which was converted into a monastery after the construction of the new bishop's residence and has accommodated an institute for deaf mutes since 1802, one of the oldest institutions of its kind. On both sides of the two-story building is a magnificent Baroque doorway. On the south side the Március 15 tér is framed by the simple but not unpretentious façade of the former Dominican church, now the parish church of the upper town. The fine Rococo interior of the church built between 1699 and 1745 takes the visitor by surprise.
Related Attractions
Triumphal Arch
A few roads north of Március tér, on the earlier edge of the town, the Classical triumphal arch rises majestically in Köztársaság út.This imposing monument was erected in 1764 when Empress Maria honored Vác with a visit. Bishop Magazzi again commissioned the court architect Isodore Canevale who was already engaged with planning the cathedral. Canevale created a triumphal arch on ancient Classical lines with relief medallions on the attica. They depict the portraits of the imperial couple, the archdukes Joseph and Leopold together with both the Habsburg emperors Ferdinand and Maximilian, predecessors of Maria Theresia.
Hegyes Tower
Northwest of Március tér on the river bank is the so-called Hegyes tower, the last remains of the old town wall. A modern house adjoins the single-story round edifice. The promenade continues along the river bank with moorings for boats and ferries to one side.
Map of Vac Attractions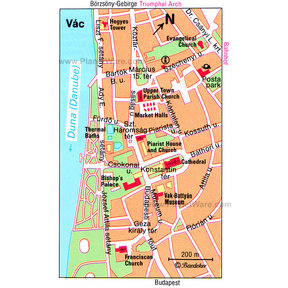 Vac Map
More Vac Attractions
Popular Destinations Nearby