Surroundings, Trabzon
Related Attractions
Hezit Ilys, Turkey
The former Monastery of St George in Peristera can be reached from the village of Esiroglu (Yesirogu in the Maçka valley) which lies 28km/17mi south of Trabzon. A local guide is advisable and the walk will take at least three hours. This monastery and look-out post for Trabzon was built in the reign of Justinian (532). A famous collection of manuscripts was destroyed by a fire in 1906 and in 1923 the monks had to abandon the monastery.
Kaymakli
About 5km/3mi south of Trabzon a steep track off the main Erzurum road leads to the Monastery of Kaymakli, where Armenian monks lived until 1923. The two-story building with an arcaded facade stands alongside the ruins of a bell-tower. In the vicinity two chapels can be found: one (1424) is now used as a hay barn and the other (1622) contains the remains of some paintings.
Kiremitli, Turkey
Kücük Konak, a village 46km/29mi south of Trabzon, is the starting point for a 10km/7mi walk to the Vazelon Monastery (St John of Vazelon) which is set on a rock high above the Degirmendere valley. It is one of the most important Pontic monasteries and was used by Justinian as a look-out post to warn of attacks from hostile mountain tribes. The monastery was linked with Trapezunt by a cobbled road (King's Road). The main building which has been altered many times stands in front of a cave. The nearby Chapel of St John (John the Baptist) which was built by Manuel III in 1410 contains the remains of some paintings.
The Sumela Monastery is set in a dramatically stunning location, built on a steep section near the base of a huge rock wall.
Zigana Pass
The main road from Trabzon to Erzurum and Erzincan, runs southwest through the Eastern Pontic Mountains and climbs the 2,030m/6,660ft Zigana pass. It was perhaps on a mound near here (about an hour's walk) that Xenophon and his Ten Thousand caught their first glimpses of the Black Sea ("Thalatta!").
Surroundings Pictures
Map of Trabzon Attractions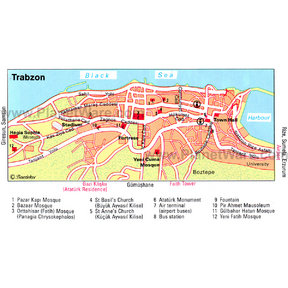 Trabzon Map
More Trabzon Attractions
Popular Destinations Nearby