Surroundings, Amasya
The surroundings of Amasya include the district town of Göynücek and the gorge-like valley of the Cekerek Irmagi.
Related Attractions
Ezinepazari
On the left of the Tokat road about 25km/15.5mi southeast of Amasya stands a simple 13th century Seljuk han, now used as a byre. Built about 1240 by Mahperi Hatun, mother of the Seljuk Sultan Keyhusrev II, it was once the last caravanserai before Amasya.
Gumushacikoy, Turkey
The Köprülü Mehmet Pasa Camii and the Mehmet Köprüsü (1666), about 62km/38mi northwest of Amasya, were the work of a single founder. The mosque, like the bridge, dates from the 17th century.
Goynucek, Turkey
Some 44km/27mi southwest of Amasya the remains of a citadel stand guard over the district town of Göynücek and the gorge-like valley of the Çekerek Irmagi (the ancient Skylax). Two rock stairways are tunneled in the cliffs.
Kocagöl
This little mountain lake, also known as Borabay Gölü, is set in the picturesque eastern foothills of Ak Dag near the town of Tasova about 70km/43mi northeast of Amasya. It is a favorite spot with local people because of its lovely wooded surroundings.
Merzifon, Turkey
Before being rechristened Neapolis by Pompey, Merzifon, a district center about 50km/31mi northwest of Amasya, was known in antiquity as Phazemon. Some of its Byzantine churches were converted to mosques by the Ottomans. The best known Ottoman building is the Kara Mustafa Pasa Camii (founded in 1666/67) which has a square domed hall. The Murat Camii, built by Murat II, dates from 1427.The nearby Çelebi Mehmet Medresesi, named after Mehmet II, was constructed during the rule of the Emir Unmar. Its square inner court, all four sides of which have exceptionally high iwans, lacks the usual arcades. The old system for heating the cells around the courtyard has survived. Rising above the medrese is the town's clocktower, erected in 1866. Shaped like a minaret the tower is built of brick with a wooden structure above the gallery.
Map of Amasya Attractions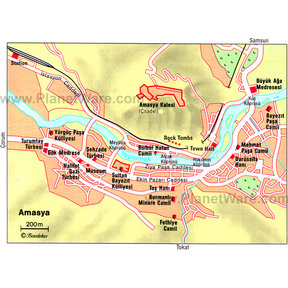 Amasya Map
Popular Destinations Nearby