Trondheim Cathedral
Domkirke
Trondheim Cathedral was built by King Olav Kyrre (1066-93) over the tomb of St Olav and considerably enlarged after the establishment in 1151 of the archbishopric of Nidaros, with authority over the whole of Norway. In conception and execution it is the most magnificent church in the Scandinavian countries. The transept and chapterhouse are in a Late Romanesque transitional style influenced by the Norman architecture of England, and the fine Early Gothic domed octagon dates essentially from the same period.
Important Information:
Useful tips:
Organ music on weekends year-round at 1 p.m.
Guides:
Guided tour included with admission.
The long choir, with the beautiful south doorway, was built in the early 13th century, the massive nave and the tower, also in Gothic style, between 1230 and 1280. After being ravaged by fire in 1531, 1708 and 1719 the whole western half of the church, from the transept to the west front, was reduced to ruin. The reawakening of national consciousness in the 19th century, however, saved the Cathedral from total destruction. Restoration work began in 1869, and on July 28, 1930, the 900th anniversary of St Olav's death, the church was re-consecrated. The organ (1930), in its Baroque organ-case, was moved in 1936 to a new position under the rose window, and the west front was restored between 1914 and 1968.The Cathedral is built of bluish-gray soapstone (klebersten) quarried to the south and east of Trondheim. In the 11th and 12th centuries the Cathedral was the burial-place of the Norwegian kings. In the 15th century a number of kings were crowned here, and since 1814 it has been a requirement of the constitution that the monarch should be crowned in Trondheim Cathedral.
Trondheim Cathedral Highlights
Interior
Over the high choir is the domed octagon, in richly decorated Gothic. From the ambulatory there is a view of St Olav's Spring, which was probably a factor in determining the site of the earliest church here. Adjoining the high choir is the long choir (26m/85ft long), with a beautiful font based on fragments of an earlier one. The south chapel in the Romanesque transept was consecrated in 1161. The aisled nave, almost completely rebuilt, is 42.50m/140ft long by 20m/65ft wide, with 14 piers supporting the vaulted roof. The large organ, under the rose window, was made by Steinmeyer, of Øttingen in South Germany (1930). Fine stained glass (1913-34) by Gabriel Kielland.
Archbishop's Palace and Museum
To the east and southeast of the Cathedral lies the old churchyard. To the southwest the Archbishop's Palace (Erkebispegården), a medieval stone building, now houses a collection of weapons and the Museum of the Resistance (1940-45).
More Trondheim Cathedral Pictures
Map - Trondheim Cathedral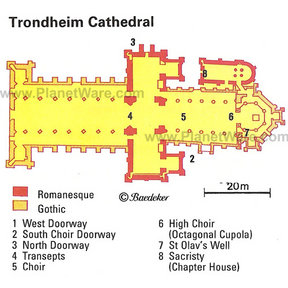 Map - Trondheim Cathedral
Map of Trondheim Attractions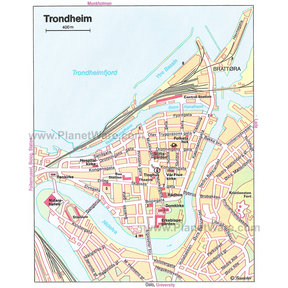 Trondheim Map
Popular Destinations Nearby