12 Top-Rated Tourist Attractions in Oklahoma State
Oklahoma is an authentic gateway to the west - a land of red dirt where buffalo roam the plains and oil rigs pump riches. But the largest cities, Oklahoma City and Tulsa, also have a distinctly refined air, having been built on the proceeds of an early-1900s oil boom. Modern museums, galleries of international art, and lavish gardens all give the state a more cosmopolitan edge, but many tourists choose to experience Oklahoma with the simple pleasures of a road trip, and no highway is more iconic than the state's stretch of Route 66.
1 Route 66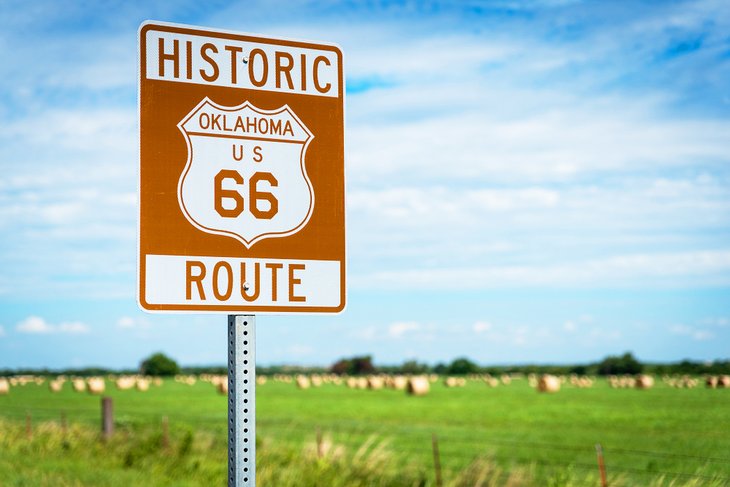 The full stretch of Route 66 runs from Chicago to Los Angeles, but the longest run of miles cuts diagonally through Oklahoma State. This OK length begins in the northeastern corner of the state and travels through Tulsa and Oklahoma City before crossing the border into Texas. Roadside attractions range from the historical such as Oklahoma Route 66 Museum in Clinton and National Route 66 and Transportation Museum in Elk City, to the odd, like the Blue Whale of Catoosa or Golden Driller in Tulsa. Generally, sightseeing draws on Route 66 have a motor-head bent, such as drive-ins, motorcycle museums, and old-timey filling stations, meaning that it's avid road-trippers who most enjoy the journey.
2 Philbrook Museum of Art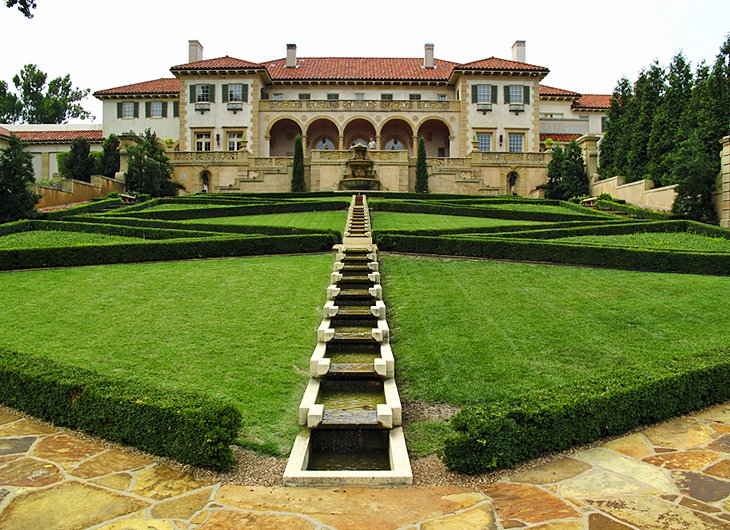 This Italian Renaissance-style villa turned art museum sits on 23 acres of picturesque formal and informal gardens along Crow Creek. It has the elegance and wealth of oil-rich Tulsa in the 1920s, while the art collection has a decidedly international scope. Pieces at the Philbrook Museum of Art include works from Africa, Asia, and Europe. There is a second branch of the art museum located downtown.
Hours: Tues-Sun 10am-5pm
Admission: Adults $9, seniors $7
3 Oklahoma City Zoo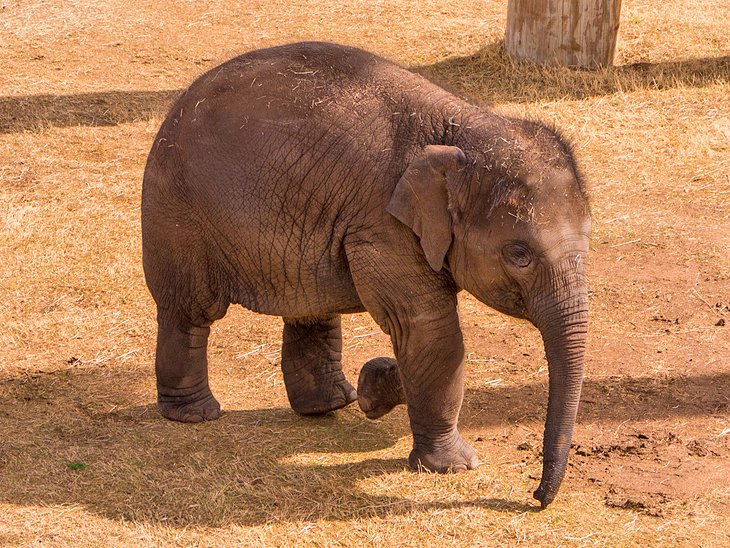 Ambling pathways take visitors through many ecosystems at the Oklahoma City Zoo, from African plains to tropical jungles. The zoo and botanical gardens were established more than a century ago, and have since nurtured 500 species of animals including some endangered as well as a grand garden landscape. Demonstrations and educational sessions are a highlight for families, whether it's a giraffe feeding or elephant show. Other fun things to do include exploring the stingray touch tank, hopping on a train ride, or boating on the zoo's lake.
Hours: Daily 9am-5pm
Admission: Adults (12-64) $8, children (3-11) $5, seniors $5
4 University of Oklahoma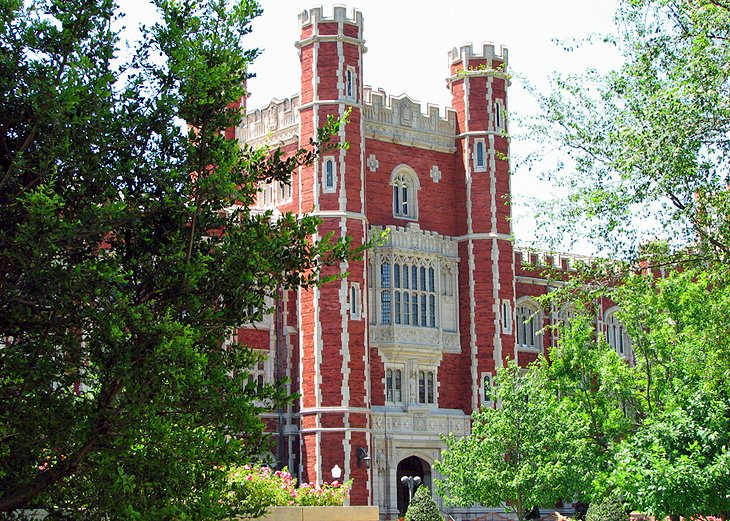 In Norman, on the southern fringes of Oklahoma City, the University of Oklahoma is home to many tourist attractions as well as strong sports programs. The school was established in 1890 and has since grown into a 3,000-acre campus. Draws include contemporary exhibits at the Fred Jones Jr Museum of Art and artifacts from worldwide civilizations (plus dinosaur bones) at the Sam Noble Oklahoma Museum of Natural History. For bibliophiles, the Bizzell Memorial Library is a lovely landmark structure dating to 1929.
Address: 660 Parrington Oval, Norman
5 Marland Estate Mansion
Near the Kansas border to the north, Ponca City is another Oklahoma oil-boom town. The grand Marland Estate Mansion dates to 1928, ordered as a second home for millionaire oilman and 10th governor of Oklahoma, E. W. Marland. The palatial home has 55 rooms, including three kitchens, plus expansive grounds with a swimming pool, artist studio, and boathouse. Other historic museums within the estate include the Bryant Baker Gallery dedicated to the namesake sculptor and the Marland Oil Museum. For a look at the Marland's earlier home, visit his smaller city residence (also in Ponca City) known as Marland's Grand Home.
Address: 901 Monument Rd, Ponca City
6 Museum of the Great Plains, Lawton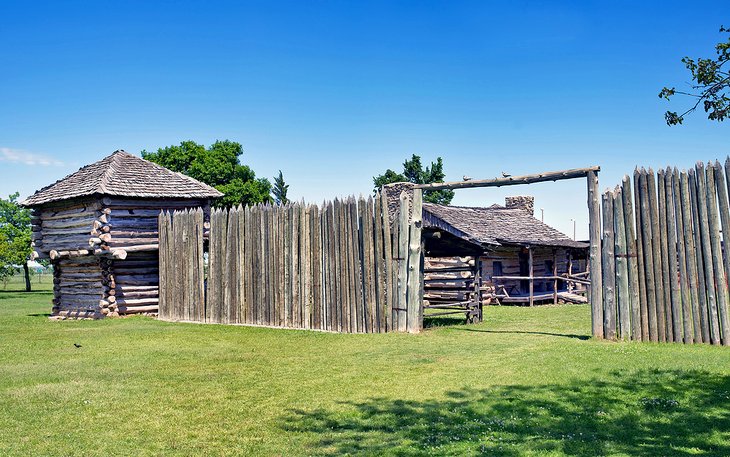 The Museum of the Great Plains in Lawton features hands-on and interactive natural history exhibits that unveil life in the west for Native Americans and pioneers. Venture outdoors to see a number of historic buildings including a train depot, trading post, and schoolhouse. Also in Lawton, tourists can discover local culture at the Comanche National Museum and Cultural Center, or tour The Holy City - an unusual collection of buildings constructed to look like Israel during the Biblical period.
Hours: Mon-Sat 10am-5pm, Sun 1-5pm
Admission: Adults $6, seniors $5, children (7-11) $2.50
Address: 601 NW Ferris Ave, Lawton
7 Gilcrease Museum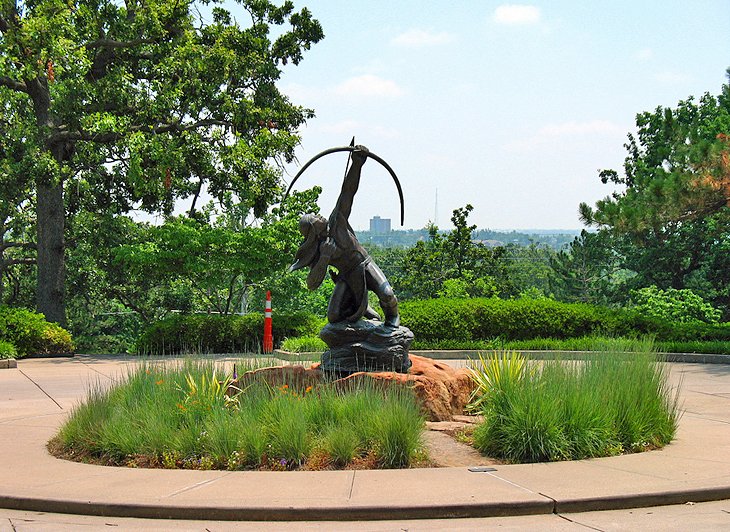 The Gilcrease Museum in Tulsa presents an extensive art and history collection from the American West, exploring both frontier settlement and Native American cultures. Collections include art, historical manuscripts, and anthropological artifacts. The museum is set on 460 acres in the Osage Hills. Stunningly lush gardens cultivate 23 of those acres with thematic gardening styles including pretty Victorian, colonial, pre-Columbian, and pioneer landscapes.
Hours: Tues-Sun 10am-5pm
Admission: Adults $8, seniors $6, students $5, children (18 and under) free
Address: 1400 North Gilcrease Museum Rd, Tulsa
8 Oklahoma City National Memorial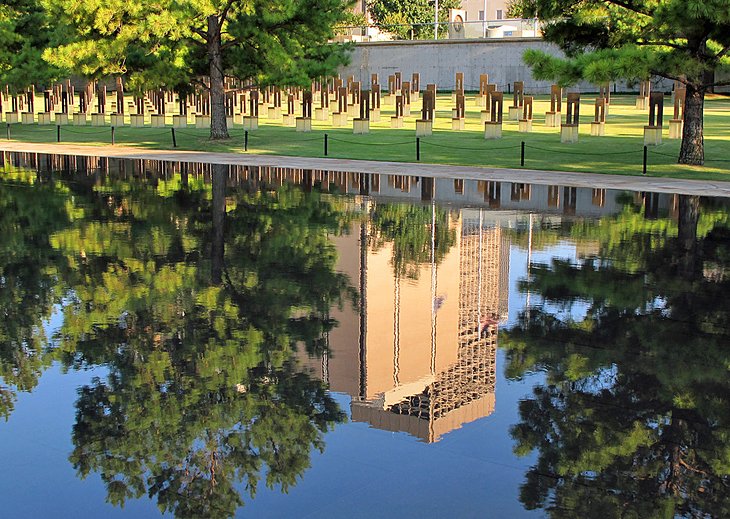 The 1995 bombing of the Alfred P. Murrah Federal Building is poignantly remembered at this outdoor memorial and museum in Oklahoma City. Victims, survivors, and rescuers are honored within the grounds, which include a reflection pool, gardens, and symbolic sculptures. It's become a landmark of the state capital. The nearby Oklahoma City National Memorial Museum recounts the tragic events felt across the nation.
Hours: Outdoor memorial - 24 hours; museum - Mon-Sat 9am-6pm, Sun noon-6pm
Admission: Outdoor memorial - free; museum - adults $12, seniors and students $10
Address: 620 North Harvey Ave, Oklahoma City
9 Woolaroc Museum & Wildlife Preserve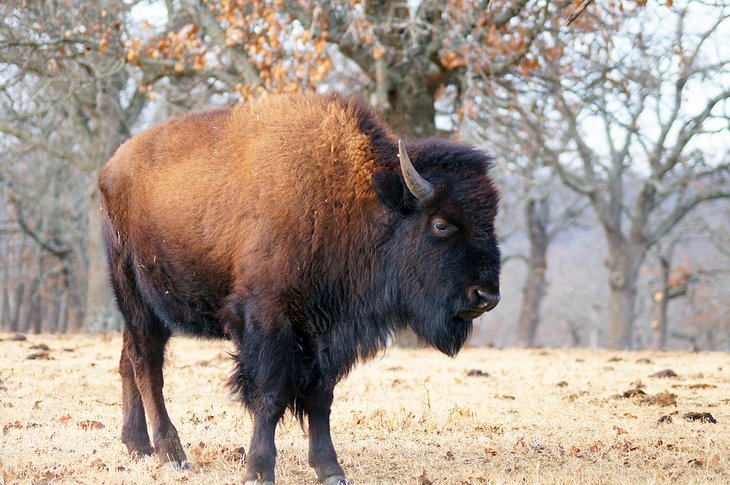 Woolaroc Ranch covers 3,700 acres where American bison, longhorn cattle, and elk roam free on the wide-reaching landscape. Visitors can safely see and photograph these magnificent beasts from their vehicles. Also on the ranch grounds are a western-focused museum (exhibiting art and artifacts) and a rustic lodge. The preserve is a 20-minute drive southwest of Bartlesville, which is also worth a visit to see Price Tower Arts Center - the only skyscraper constructed from renowned architect Frank Lloyd Wright's designs.
Address: 1925 Woolaroc Ranch Rd, Bartlesville
10 National Weather Center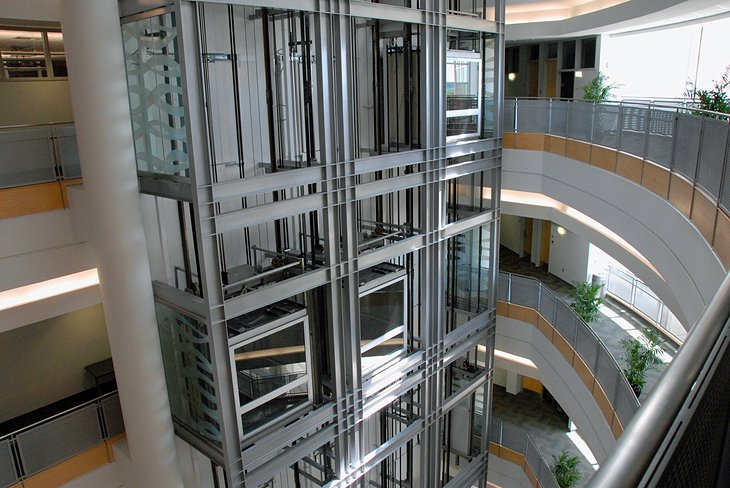 Oklahoma State has some of the most severe weather occurrences of anywhere in the world, with powerful tornadoes, sky-splitting lightning, and searing heat. These extreme conditions are what makes a tour of the National Weather Center in Norman (south of the capital) so interesting. The guided session visits Oklahoma University's School of Meteorology, as well as the Storm Prediction Center. Advance reservations are required. There is also an on-site café open to the public.
Admission: Free
Address: 120 David L Boren Blvd, Norman
11 Cherokee Heritage Center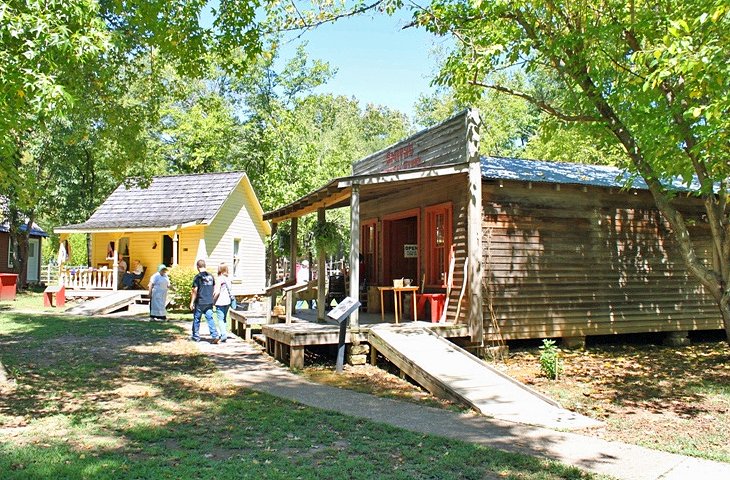 Tahlequah has been the capital of the Cherokee Indian Nation since 1839, but the living history displays at the Cherokee Heritage Center explore even earlier times. Outdoor exhibits at Diligwa recreate a 1710 Cherokee Village while the historic wooden buildings of Adams Corner Rural Village revive Cherokee life in the 1890s. Both are worth visiting to discover an unusual perspective on Native American history. Tahlequah is located southeast of Tulsa, midway between Muskogee and the Arkansas border.
Address: 21192 S Keeler Dr, Park Hill
12 JM Davis Arms & Historical Museum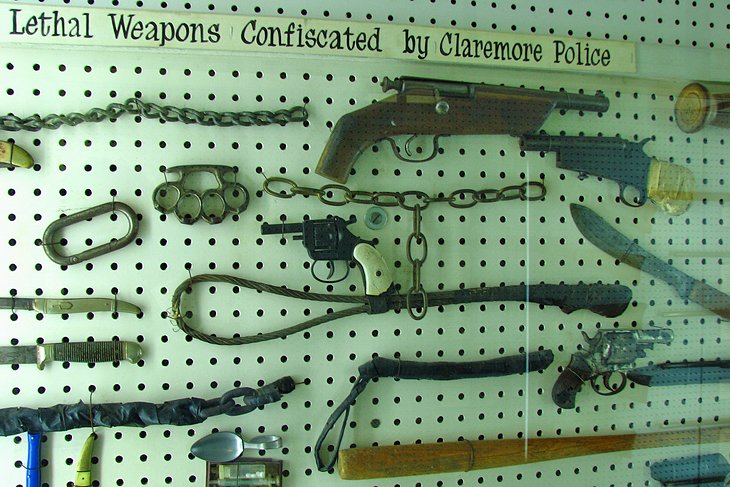 About 50,000 items are on display at this truly Wild West museum, ranging from riding saddles to Native American artifacts. But the bulk is a private collection of firearms dating as far back as the 14th century. The museum also features a re-creation of the lobby from JM Davis' Mason Hotel.
Hours: Mon-Fri 8:30am-5pm, Sat 10am-5pm, Sun 1-5pm (closed Sunday Oct to mid-March)
Admission: Free
Address: 330 North JM Davis Blvd, Claremore
More on Oklahoma