Yverdon-les-Bains Tourist Attractions
The old-world town of Yverdon, capital of northern Vaud and a well-known health resort, lies at the southwest end of the Lac de Neuchâtel. From ancient times this has been an important traffic junction.Yverdon-les-Bains occupies the site of the Roman camp of Eburodunum. Traces of the earliest inhabitants were found when the inland waters of the Jura sank in the flood plain of the Orbe in the 19th C. According to the most recent excavations, the first settlements built on piles are dated to about 2800 BC At the beginning of the fifth C. Burgundians invaded the area. In the 13th C. the Dukes of Savoy built the massive castle in which the famous educationalist Pestalozzi ran his school from 1805 to 1826.
Yverdon - Castle (Historical Museum)
The town center of Yverdon-les-Bains is dominated by the mighty château, with four towers, once surrounded by water. It was originally the property of the Dukes of Savoy and it was Peter II who built it in the characteristic "Savoy square" form. Later, the castle came into the hands of the Bernese governors (Landvögte) and, from 1805, it was the headquarters of the Pestalozzi Institute, where Johann Heinrich Pestalozzi ran his school for 20 years. The two rooms in which he lived (Salle Pestalozzi) contain the furniture and memorabilia of the pedagogue. Since 1912, the castle has housed a library and a historical museum, with interesting finds from the locality and an ethnographical collection.
Yverdon - Science Fiction Museum
Near the Yverdon Castle, in the Maison d'Ailleurs, the Science Fiction Museum, originating from the collection of Pierre Versin, encompasses the whole gamut of Utopian fantasy, ranging from books to magazines, comics, pictures, games, video-tapes and films.
Yverdon - Town Hall
In the "Place" (the main square) stands the Yverdon Hôtel de Ville (town hall), built 1769-1773 by AD Burnand, and on the west side of the square the parish church (1755-1757), designed by the Geneva architect J. M. Billon. The curved gable end of the facade has as its decoration an allegory of faith. The choir-stalls (1499-1502) by C. Chapius and B. Bottolier are of considerable merit. Outside the church stands a monument to Pestalozzi by A. Lanz (1889).
Yverdon - Museum of Clothing
The Musée de l'Habillement, opened in 1982, exhibits in contemporary setting several thousand handmade articles of clothing and accessories from 1850 to the present day.
Yverdon - Centre Thermal
The Centre Thermal (reconstructed 1977) contains the sulfurous spring (34 deg C-93 deg F) which was used for curative purposes from Roman times.
House of Elsewhere
A museum devoted to science fiction and amazing journeys, which includes, books, magazines, posters and paintings dedicated to fantasy.
Map of Yverdon-les-Bains Attractions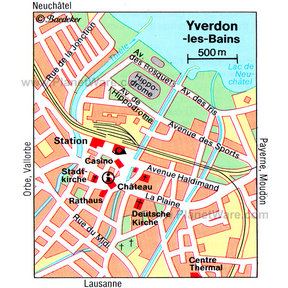 Map - Yverdon-les-Bains