Turks and Caicos Islands
Quiet and unspoiled, the Turks and Caicos Islands possess the world's third largest coral reef system plus some of the finest tropical beaches. This string of tiny islands attracts travelers seeking seclusion and tranquility and those in pursuit of clean sandy beaches and the world's best diving. The Turks and Caicos Islands are relatively flat and dry, with an elevation of 161ft/49m and annual rainfall of less than 300in/800mm.
Related Attractions
Salt Cay
At one time the world's largest producer of salt, historic Salt Cay a 2.5sq.mi/6.5sq.km island was the center of the Bermudian salt industry, the mainstay of the Turks and Caicos economy from the late 1600's until the early 1960's.Declared a World Heritage Site by UNESCO, Salt Cay is a time capsule from the days "when Salt was king". Donkeys, wild cattle and iguanas far outnumber the 125 human inhabitants.
Balfour
Balfour Town boasts several old two-story homes with wide verandas and jalousied windows. What little development there is on Salt Cay is found here. There are small hotels and a few stores that sell hand-woven baskets, T-shirts, convenience foods, and beach items.
The White House
Splendidly preserved White House, a stately salt-merchant's manor built in 1835 with ballast stone and furnished with antiques is the most noteworthy attraction in Balfour.
Treasury Building
The Treasury Building is where the Salt Cay's salt-workers once collected their pay.
Whale Watching
North Atlantic Humpback Whales are seen around the islands of Grand Turk and Salt Cay during the months of late January through early April. These magnificent creatures pass by as part or their annual migration. The underwater songs of the whales can be heard during whale watching tours.
Turks and Caicos Diving
The Turks and Caicos Islands are surrounded by one of the most extensive coral reef systems worldwide (65mi/104km across and 200mi/320km long).Excellent visibility (up to 200ft/60m), unspoiled reefs, abundant marine life and quality diving services make the Turks and Caicos Islands an award-winning diving destination. There is exceptional wall-diving starting in shallow water and dropping off into the deep. Relatively close to the beach, the reef makes beach dives possible. Shipwrecks, old and new can be dived upon.Under the National Parks Ordinance, large areas have been set aside as marine parks and fisheries reserves. Mooring buoys have been established at all dive sites to avoid any possible anchor damage. Divers visiting Turks and Caicos are encouraged to observe, respect an enjoy the natural beauty of the marine environment and to leave the reef as healthy as they found it.
Turks and Caicos Fishing
Surrounding most of the Turks and Caicos Islands and especially South Caicos is a fertile fishing ground. There are plenty of opportunities to take a fishing charter, all visitors need is a fishing license.Reef and Bottom fishing is the most common and fishers are likely to ride home with conch, snapper or grouper. Bonefish are found in the shallower waters in the flats and creeks in Provo or South Caicos. Sailfish and white marlin can be caught November to April while Barracuda and Atlantic marlin season is year round. In the summer months watch out for the yellow fin and black fin tuna, Wahoo and the large hammerhead and tiger sharksWhat makes the fishing here extra special is that on the private charters you can ask your captain to arrange for your catch to be prepared at any one of the country's fine restaurants.
West Caicos
Said to have the most beautiful diving spots in Turks and Caicos, West Caicos is an uninhabited nine sq mi/23 sq km island but a careful look on the limestone shore reveals names etched in the rocks from some of the islands earlier visitors dating back into the 1800's.West Caicos was cleared in the 1890's for salinas (salt ponds) and the cultivation of sisal. The island still contains the ruins of those activities complete with railroad tracks, engines and old stone buildings.Eagle rays, manta rays and humpback whales are seen sailing off the coast. Pink flamingos can be sighted at Lake Catherine in the center of the island There is no accommodation on the island.

Lake Catherine
Lake Catherine is a nature reserve that is home to flocks of migratory birds, including flamingos.
West Caicos Marine National Park
The reefs off the west shore of West Caicos are protected within West Caicos Marine National Park.
Yankeetown Ruins
In the remains of Yankeetown in the interior of West Caicos you can see the remains of a sisal plantation that operated from 1890 to 1920.
East Caicos
East Caicos is an 18sq mi/46sq km uninhabited island best known for its plantation ruins and cave artwork. Swamps and mangroves engulf most of the island.Sea turtles use a splendid 17mi/27km beach on the north coast of the to lay their eggs. The area is home to flamingos, wild ducks and pigeons.There are many ponds and lakes on the island, and at White Top Pond grow the Palmetto thatch palms, which are still in great demand for making hats.Jacksonville, the northernmost point of the island, was the center of administration of a 50,000ac/20,000ha sisal plantation.
East Caicos Caves
Near Jacksonville on the north west of the island there are a series of caves that were used for mining bat guano and contain petroglyphs (rock paintings) which shows early evidence of settlers.
Jacksonville and Railway Ruins
The ruins of the abandoned town of Jacksonville and its railroad tracks and are a testament to the town's history as a large sisal plantation.
Turks and Caicos Nature Reserves, Sanctuaries, and National Parks
The Turks and Caicos is dedicated to the protection of the natural, historical and cultural heritage.In 1992 the government set aside 33 specific protected areas, a list that includes nature reserves, sanctuaries and historical sites totaling more than 325 sq mi/839km.Twelve small cays are protected for breeding grounds for resident and migratory birds. Other protected areas include marine replenishment areas as well as breeding grounds for turtles and iguanas.
Turks and Caicos Bird Watching
170 species of birds can be found in the Turks and Caicos Islands. Great Blue Herons, Flamingos, Osprey, Pelicans, Egrets, Frigates, Boobies and other water birds are found by birders and photographers.The National Parks system protects more than twelve small cays as breeding grounds. The salt ponds and inland marshes serve as excellent feeding spots for resident and migratory birds.
Big Ambergris Cay
Big Ambergris Cay is home to the Turks and Caicos iguana, the smallest of the Caribbean rock iguanas and consequently the most vulnerable. Once widespread throughout the Turks and Caicos Islands 30 % of the remaining individuals inhabit Big Ambergris Cay.
Turks and Caicos Eco Tours
A variety of eco-tours are available throughout the Turks and Caicos including trips by land or sea to various natural attractions including mangrove swamps, limestone caves or the bio-diversity of Turks and Caicos' underwater world.
Island Festivals and Events
The Turks and Caicos have events through the year that offer visitors a taste of the culture and the sense of community throughout the archipelago.
Provo Summer Festival
Provo hosts a week-long Summer Festival, with regattas, parades, partying and a Miss Turks & Caicos Beauty Pageant.
Summer Jam
Grand Turk hosts a two-day Summer Jam every June, featuring live bands and beauty contests.
Grand Turk's Carnival
Grand Turk's Carnival is a week-long festival in August with reggae and dancing.
Map - Turks and Caicos Islands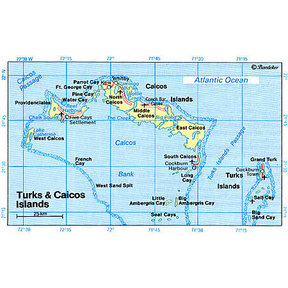 Map - Turks & Caicos Islands