The Grenadines Attractions
The main islands which comprise the Grenadines are Bequia, Mustique, Canouan, Mayreau, Union Island, the Tobago Cays, Palm Island, and Petite St Vincent. They range from lightly populated to uninhabited and are home to some excellent beaches and dive sites. Most of the islands offer resort accommodation.
Canouan
Mayreau
Mayreau is a small island covering only 2.5sq km/.95sq mi. The only village is home to about a few hundred people and there is just one road on the island. Most visitors arrive at the dock on Saline Bay.
Saltwhistle Bay
Salt whistle Bay offers a protected white sand beach with the small Salt Whistle Bay Club Resort just back from the shore a short distance.
Mustique
Mustique is a privately owned island frequented by a number of celebrities. The island is 5 km (3 mi) long and 1.6 km (1 mi) wide and has its own airport, general store, and shops. There are several beaches and snorkeling areas around the island.
Palm Island
Palm Island is a tiny island dominated by a private resort. There are five white sand beaches around the island. The island has a small airport and is also only a short boat ride from Union Island.
Tobago Cays
Bequia
The island of Bequia is home to approximately 5,000 people and is the largest of the Grenadines, 8.3 km (5 mi) long, and almost 1 km (1/2 mi) wide. It has a number of beaches and is a popular yachting destination.Bequia does not see large cruise ships or jet loads of visitors, access is by small aircraft or ferries.
Union Island
Union Island is at the southern end of the Grenadines and is the southern port of entry for St Vincent and the Grenadines. Its most famous feature is the 281m (900 ft) Mount Parnassus.The island has two main villages, Clifton and Ashton, and a few beaches but is less frequented by tourists than most of the other major islands in the area. Richmond Bay and Belmont Bay on the north side of the island have the two main beaches.
Ashton
Ashton is a quiet community just west of Clifton. There are few facilities for travelers here but there are a number of hiking trails in the area.
Clifton
Clifton is the main village on the island with shops, restaurants, marina and airport. The town is a good place from which to arrange tours of other nearby islands.
Map of The Grenadines Attractions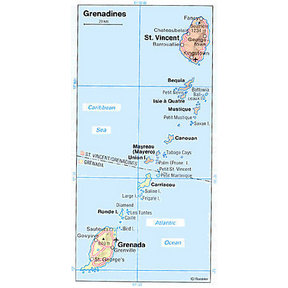 Map - Grenadines