Steyr Tourist Attractions
Steyr, at the confluence of the Rivers Steyr and Enns, is an old-established focal point of the Austrian iron and steel industry, drawing much of its supply of ore from the Erzberg at Eisenerz 100km/60mi away.
Pilgrimage Church of the Christkindl (Christ Child)
This little 18th C. church was built by the Baroque master builders Carlo Carlone and Jakob Prandtauer. A special post office set up here at Christmas time receives letters from children all over the world. The church has an open plan of five circles in the form of a cross; the high altar incorporates the religious symbol of the Christ Child, as the Son of God.
Gleink
Gleink has a fine Baroque church of the 17th-18th C. (originally belonging to a Benedictine abbey which was dissolved in 1784) built on Romanesque foundations. In the choir can be seen two paintings by Martin Altomonte; the high altar and organ are also impressive. The frescos have unfortunately been partly disfigured by overpainting.
Seitenstetten Abbey
This Benedictine abbey, founded in 1112, was rebuilt by Josef Munggenast in 1718-47; of the medieval buildings only the Knights' Chapel (Ritterkapelle) remains. The abbey contains a large collection of pictures.
Krenstetten
6km/4mi further to the northeast of the Seitenstetten Abbey lies the village of Krenstetten, with a notable Gothic parish church (Late Gothic winged altar of 1576, pulpit of 1636 and 14th-16th C. stained glass in the choir).
Enns Museum, Weyer, Austria
Continuing south along Enns river the town is roughly 30km southeast of Steyr. The Enns Museum is located in Weyer. The museum is dedicated to the raftsman of the area as well as raft transport of iron and iron processing exhibits.
Clock Museum
Steyr is the location of a Clock Museum with displays of timepieces and implements which measure time.
Coach Museum, Grossraming, Austria
The little town of Grossraming, on the opposite side of the Enns River from Reichraming, has a coach museum.
Forestry Museum, Reichraming
The little town of Reichraming, near Grossraming has a forestry museum.
Map of Steyr Attractions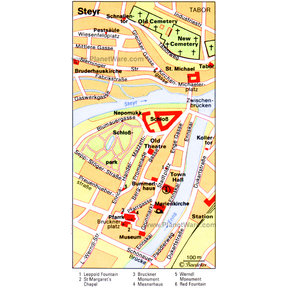 Map - Steyr