St Maarten
Dutch St Maarten is one of two nations occupying this island, the north side being under French rule. The countries coexist peacefully and have done so for over 300 years. The coastline has many bays and beaches, and for this reason St Maarten is a fine destination for water-sports activities.
Related Attractions
Simsonbaai, Netherlands Antilles
The small fishing village of Simsonbaai is a favoured spot for sailing, wind-surfing and water-skiing.
Border Monument
The Border Monument commemorates the peaceful coexistance of Dutch and French rule on the island for more than 300 years.
Dutch Cul de Sac
During the 18th and 19th centuries, the Dutch Cul de Sac was the center of tobacco, surar and indigo production. Also in the area is the island's oldest graveyard.
Philipsburg, Netherlands Antilles
Philipsburg, the capital of Dutch Sint Maarten, occupies a narrow strip of land between the Great Salt Pond and the Caribbean Sea.
De Ruyterplein
De Ruyterplein is Philipsburg's main square surrounded by the city's public buildings. This is the heart of the town with many interesting places in and around the area.
Burgher's Houses
These former Burgher's residences are good examples of Dutch architecture in the Caribbean.
Fort Amsterdam
At Fort Amsterdam are the ruins of the first fort on the island, built in the 17th c.
Sint Maarten Museum
The Sint Maarten Museum in Philipsburg highlights the pre-Columbian history of the island. On display are an Arawak canoe, tools, pottery and idols.
Beaches
The many beaches around St Maarten offer a variety of water spots activities.
Maho Bay
The beach at Maho Bay is situated at the end of the Queen Juliana Airport landing strip. Bathers make take in the sights and sound of arriving and departing aircraft.
Mullet Pont Bay
Mullet Pont Bay beach has fine sand with several resorts nearby.
Cay Baai
This seculded beach, Cay Baii, is accessible by horseback and bicycle and is a good spot for underwater exploration.
Guana Bay
Guana Bay beach is favored by surfers for its waves. There are accommodation options around the bay.
Great Salt Pond
Great Salt Pond is the site of the historic salt production on the island.
Map - St Maarten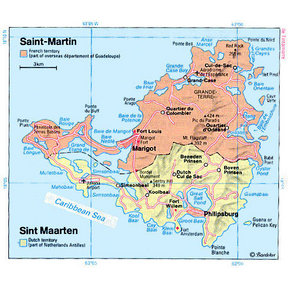 Map - Sint Maarten & Saint-Martin