St Eustatius
The small island of St Eustatius is home to a dormant volcano, The Quill. The island's varied terrain offers both beachs and a rain forest.St Eustatius was once a thriving port during the 17th and 18th Centuries. Today the island is making efforts to preserve it's history and heritage buildings.
Related Attractions
Beaches
The beaches on the west or leeward side of the island are the best for swimming. The beaches on the Atlantic have strong undertows and are better recommended to sunbathers and beach hikers.
Oranjestad, Netherlands Antilles
Oranjestad, the capital of St Eustatius, is divided into Upper and Lower Towns. There are a number of 18th c. ruins in the area around the bay, with businesses and more recent deveopement in the Upper Town.
Fort Oranje
The preserved 17th c. Fort Oranje retains its cannons and bastions. In the courtyard are memorials to Michiel Adriaanz de Ruyter (17th c. Dutch Admiral), the 18th c. American Man of War "Andrew Doria", a World War II Memorial, and a Bicentenail plaque donated by the U.S. Virgin Islands. The fort overlooks Lower Oranjestad.
St Eustatius Historical Foundation Museum
The St Eustatius Historical Foundation Museum in Oranjestad, contained in an 18th c. merchant's house, displays household and nautical articles and antiques. There are also archeological displays related to the island.
De Graaff House
De Graaff House is a small museum which tells visitors about the settlement and natural history of the island.
Dutch Reform Church
The Dutch Reform Church has been in ruins since the roof was destroyed in the 18th c, but visitors may still climb its tower for a clear view of the island.
Honen Dalim Synagogue
Built in 1739, the Honen Dalim Synagogue is no longer in use. Its cemetery contains markers from the 18th and 19th centuries.
Gertrude Judson Memorial Library
The Gertrude Judson Memorial Library houses a collection of Caribbean literature.
Stadhuis
The town hall, Stadhuis, is a good example of Dutch Colonial architecture.
Three Widows Corner
Three Widows Corner is a restored 18th c. house with a quiet courtyard.
The Quill
The longest hike up this dormant volcano known as The Quill, will take visitors to a small rain forest in the peak's crater. Shorter trails take hikers through a variety of tropical flora and fauna.
Fort Amsterdam
Fort Amsterdam is a small 18th c. fort on the east side of St Eustatius. It rests on a cliff overlooking Bargine Bay and Great Bay.
Fort de Windt
Fort de Windt is an 18th c. of which little remains today. However, there are beautiful views from this hill top location, out over the ocean and to nearby islands.
Lynch Plantation Museum
The Lynch Plantation Museum, known locally as the Berkel Family Plantation, museum exhibits household artifacts and antiques.
Map - St Eustatius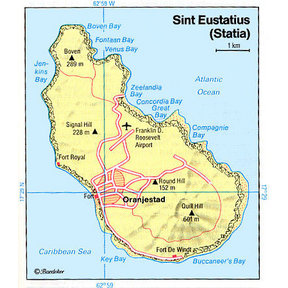 Map - Sint Eustatius