Spittal an der Drau Tourist Attractions
Spittal an der Drau is located to the west of the Millstätter See where the Liesertal winds down from the Katschberghöhe and joins the fertile Drautal.
Old Town
The Spittal an der Drau old town lies around two principal squares, the Hauptplatz and the Neuer Platz. Along the strung-out Hauptplatz (main square), with the Torbogen gate at its east end, are some old burghers' houses, including the "Fuggerhaus" with a beautiful arcaded courtyard, and the Apothecary's House (Apothekerhaus) with its Empire style facade. The 13th-14th C. Roman Catholic parish church has been remodeled several times; note in particular the two stone reliefs (1418), a stone sculpture of the Virgin with the dead body of Christ (15th C.) and various monuments. On the second floor of the Rathaus (on the Burgplatz) can be seen some 15th C. frescos.
Schloss Porcia
Off Burgplatz in Spittal an der Drau stands Schloss Porcia (also known as Schloss Salamanca), Spittal's most interesting building from an artistic and historical viewpoint. Built in 1533-97 on the model of an Italian palazzo, it is the finest Italian Renaissance style building in Austria. A three-storied, square building, its portal is framed with pillars and has a Baroque pediment with the Porcian coat of arms, surrounded by foliage and allegorical figures. The arcaded courtyard, also three-storied, is decorated with fantastic figures and relief medallions and forms an attractive setting for open air theatrical performances in the summer.
Local Museum
The upper floors of the Schloss Porcia in Spittal an der Drau house the Local Museum. Exhibited are objects relating to the folk and local art of the region.
Schloss Porcia Park
On the western side of the Schloss Porcia in Spittal an der Drau lies the park, with a miniature castle housing the Upper Carinthian Rural and Mining Museum, including a collection of minerals. In the Salamanca Cellar is the Porcia Gallery (exhibitions).
International Choir Competition
This annual event brings together choirs from all over the world to compete in two categories - classical and modern/folk song. The open-air competitions take place in the three-story arcaded court-yard of the Porcia Palace.
Goldeck
A cableway runs to the southwest of Spittal an der Drau up the Goldeck (2,139m/7,018ft; splendid views). The Goldeck is a good skiing area and there are several descents from the upper cableway station to the Kerndlmar-Alm and into the Egger-Alm region, where a number of lifts serve the ski slopes.
Map of Spittal an der Drau Attractions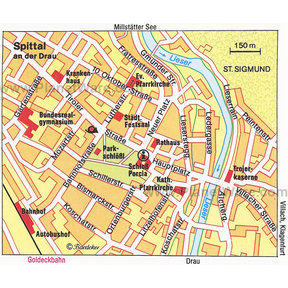 Map - Spittal an der Drau