Chinatown, Singapore
Chinatown is the setting of conserved buildings, century-old beliefs and interesting contrasts. Late 18th C shops can be found alongside modern shopping centers in this bustling district. A walk through Pagoda Street or Trengganu Street reveals unique finds like Chinese calligraphy, or herbal cures. Chinatown is at its most vibrant during Chinese New year when the entire area is alight and decorated with stalls selling a variety of festive goods. Singapore's oldest Hindu temple is smack in the middle of Chinatown
Related Attractions
Sri Mariamman Temple
The oldest (c1827) and most magnificent Hindu temple in Singapore, Sri Mariamman Temple, has a pagoda-like entrance topped by an ornate gopuram (pyramidal gateway tower).Hundreds of brightly colored statues of deities and mythical animals line the tiers of this towering entrance. A designated national monument, this temple is also where the annual fire-walking ceremony of Thimithi is held.
Chinatown Songbirds
A popular Singapore hobby is keeping songbirds and every Sunday morning, at a small coffee shop, bird enthusiasts meet informally to show off their pets and meet with fellow competitors. The elaborate cages are moved about the cafe for maximum effect while visitors have breakfast and enjoy the show.
Telok Ayer
Adjacent to shops are temples and mosques that survive from when Telok Ayer was, as it's name reveals, "the street by the bay". A Speaker's Corner is featured in Hong Lim Park which provides Singaporeans with a venue where they can speak freely in public on almost any issue.
Temple of the Goddess of the Sea
With its curved roof, stylized dragons and imposing columns, Thian Hock Keng Temple is a fantasy in stone, tiles and wood. Interestingly, the entire structure was assembled without nails. The oldest (c 1821), and most important Hokkien temple in Singapore, is known as the "Temple of the Goddess of the Sea" and contains relics brought from China which are said to be hundreds of years old.
Nagore Durgha Shrine
This shrine was built by South Indian Muslims in 1828-30 in memory of Shahul Hamid, a devout Muslim. It is a unique blend of classical and Indian-Muslim motifs. It was restored in 2007.
Sago Street
Herbal medicines, rattan, kites and masks can be purchased on this street named after the tapioca-like crop that was processed in local factories. The area was infamous for death parlors where the sick and lonely would wait out their last days.
Trengganu (Smith Streets)
The heart of activity in Chinatown. On this corner stands the remains of the once famed Cantonese opera house. This area was also the red-light district with opium dens just around the corner in Pagoda Street.
Chinatown Complex
Colorful stretches of restored shophouses contain a market selling potent herbs and meats, such as turtles, frogs and snakes.
Ann Siang Hill
Ann Siang Hill is the traditional site for remittance houses where the immigrant population sent money home.
More Chinatown Pictures
Map - Chinatown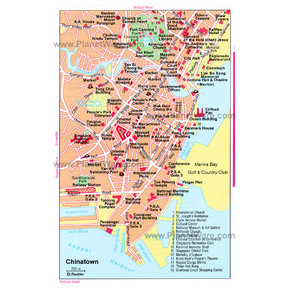 Map - Singapore - Chinatown