Saskatoon Tourist Attractions
LocationSaskatoon is a melting pot of different cultures. It lies on the banks of the South Saskatchewan River. Known as "the city of bridges" it has wide tree-lined streets and 1620 ha / 4000 acres of parks and green spaces.
Wanuskewin Heritage Park
Located about 3 km / 2 mi north of Saskatoon the Wanuskewin Heritage Park - from the Cree word "Wanuskewin" meaning "living together in harmony" - aims to encourage a better understanding of the indigenous peoples who inhabited the region in earlier times.The park, spread over 360 acres of land purchased in 1983 from the Meewasin Valley Authority (the body responsible for the river valleys around Saskatoon) is the site of some exciting archaeological discoveries, research into which has established that Plains Indians lived in the area at least 6000 to 7000 years ago.Among the major archaeological finds is a "medicine wheel", estimated to be about 1500 years old, consisting of a central cairn enclosed in a ring marked by three smaller cairns. Other cairns have been found marking the trail along which buffalo were herded before being driven over a precipice to their deaths. The animals were butchered in the valley below, the meat being preserved and the hides, bones, etc. processed for making into clothing, tools and tepees.
Western Development Museum
Highly recommended is a visit to this, the largest of Saskatchewan's four Western Development Museums which authentically recreates and documents the history of the Canadian west. "Boomtown 1910", the reconstructed main street of a typical prairie town (the longest such street anywhere in North America), is lined with old-style shops - including a Chinese laundry and a barber's shop - as well as a church, fire-station, railway station, and other period buildings. There is also a collection of vintage cars (priceless today) and ancient tractors.
1910 Boomtown
1910 Boomtown in Saskatoon is a recreated version a Saskatchewan town during a time when the province was experiencing an economic boom. The "Winning the Prairie Gamble: Farm Life in Saskatchewan" exhibit is a new addition which tells the story of a Saskatchewan farm family during 1905 to 1920. A second phase to this exhibit is under development and will carry on from 1920.
Ukrainian Museum of Canada
The Ukrainian Museum of Canada is dedicated to the many settlers who came here from the Ukraine and who contributed in such large measure to the country's development. Craftwork on display includes embroidered fabrics, wood carvings, traditional items of a religious kind (such as decorated Easter eggs) and ceramics.
Diefenbaker Canada Centre
The Diefenbaker Canada Centre on the University campus is a combined archive and museum devoted to the life and times of Canada's 13th Prime Minister. In addition to its permanent displays, among which are replicas of the Cabinet Chamber and Prime Minister's office in Ottawa, the Center is used for temporary exhibitions on history, politics, science and art. Diefenbaker and his wife are buried nearby.
Little Stone School House
Located on the University campus is a restored school dating from 1905. Victoria School was Saskatoon's very first school and is its oldest surviving public building.Known as the Little Stone Schoolhouse, the building dates to the late 1800s.
Gladys' Doll House
Gladys' Doll House is a delight, housing more than 1,000 dolls from a variety of periods. Dolls are displayed in settings that describe their history and background.
Mendel Art Gallery
The Mendel Art Gallery has temporary as well as permanent exhibitions of international, national and regional art.Adjoining the gallery is a conservatory filled with colorful tropical plants.
Pike Lake Provincial Park
A long sandy beach and lush expanses of grass with aspen, ash and birch make Pike Lake Provincial Park (open all year) a pleasant place to relax. For the more energetic there are tennis courts and a new swimming-pool.
Saskatchewan Indian Cultural Centre
The Saskatchewan Indian Cultural Centre in Saskatoon is dedicated to preserving First Nations culture through exhibits of historical artifacts and contemporary arts and crafts.
Saskatoon Zoo and Forestry Farm Park
The Saskatoon Zoo has settings resembling natural habitats for over 350 species of birds and animals. A petting zoo, tropical fish display and nature walkways can also be found. The zoo is a non profit, volunteer driven operation.
Vic's Vertical Walls
Vic's Vertical Walls in Saskatoon offers indoor wall climbing with all levels from beginner to advanced. Visitors are provided with equipment including shoes and a harness.Beginners must take a lesson from a certified instructor
Nutana Collegiate Memorial Art Gallery
The Memorial Art Gallery commemorates students who lost their lives in the First World War. On display are paintings and wood cuts by 20th c. Canadian artists.
Map of Saskatoon Attractions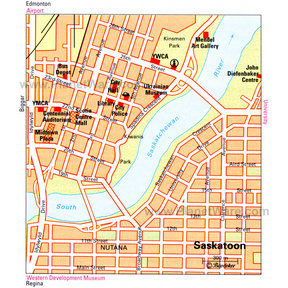 Map - Saskatoon