Sardis Tourist Attractions
Western Anatolia (Interior)Place: SartmustafaSituationThe site of the ancient Lydian capital Sardis, once celebrated for its proverbial wealth and for its Sanctuary of Artemis, lies some 100km/60mi east of Izmir near the little village of Sartmustafa on the edge of the Gediz (Hermos) valley, a tributary of the Sart Çayi (ancient Paktolos). The Lydian and Greek city lay on the west side of a steeply scarped acropolis some 200m/650ft high, while the later Roman town laid out in the form of a semi-circle occupied a lower terrace below the north side of the hill.
The Site
Towards the end of the 11th century Sardis passed to Seljuk rule. Thereafter it declined rapidly until it was burnt to the ground by the Mongols of Tamerlane (Timur-Leng) in 1402. The present village of Sartmustafa was not established until the beginning of the 20th century.
Temple of Artemis
On a low hill within the Lydian and Greek city of Sardis are the remains of the celebrated Temple of Artemis built by King Kroisos (Croesus) of Lydia in the sixth century B.C. It was destroyed by the Greeks in 498 and later rebuilt in the reign of Alexander the Great. The temple is unusually large, measuring 100x48m/330x155ft. Along each long side stood 20 Ionic columns with eight more at the each end. The temple itself was divided into two parts by a transverse wall. A Lydian inscription with an Aramaic translation which was found nearby provided the key to decoding the Lydian language. On the southeast side of the temple can be seen the ruins of a Byzantine chapel dating from the eighth century. A necropolis from the Lydian period is situated near the temple.
View from the acropolis
As a result of weathering and rain-water erosion practically nothing has survived on the acropolis of Sardis apart from the scanty remains of walls on the south and east sides. There are some superb views from the top of the acropolis.
Roman city (Gymnasium)
A few houses, a theater (fine view from the top) and a stadium measuring 230x45m/250x50yds are all that remain of the Roman city of Sardis. They are all thought to date from after the great earthquake (A.D. 17).Northeast of Sartmustafa on the road to Salihli, archeologists unearthed a A.D. second century gymnasium. To the southeast, they found other buildings including a synagogue and Byzantine shops and, some 650m/710yds to the east of the gymnasium, baths. The so-called "Bronze House" lies a little way north of the stadium.
Necropolis
Some 10km/6mi north west of Sartmustafa stands another large necropolis. Here scattered over an undulating plateau ("bin tepe", thousand hills) lie more than 60 conical burial mounds of varying size. Among them is an unusually large mound 69m/225ft high, traditionally believed to be the tomb of Kroisos' father, Alyattes, which is described by Herodotus (Bk 1, ch. 93).
Map of Sardis Attractions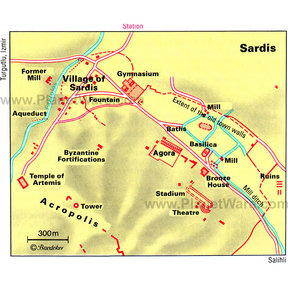 Map - Sardes