Saragossa Tourist Attractions
Zaragoza, once the residence of the kings of Aragon and now chief town of its province and the seat of a famous university, lies in the Ebro basin, on the right bank of the river, and from time immemorial has been the principal crossing point for traffic from the Pyrenees into Castile.
Zaragoza's Cathedral was built between the 12th and 16th C and displays an awe-inspiring Renaissance Capilla del Santo Cristo.
Basílica de Nuestra Señora del Pilar is a pilgrimage church, built where the Virgin is said to have appeared to the Apostle James.
La Aljafería
On the west side of Zaragoza is the Castillo de la Aljafería, built by the Moors in the 11th Century, which later became the residence of the kings of Aragon and was largely destroyed in 1809. The Catholic Monarchs stayed in the castle, and it was later occupied by the Inquisition. The Aljafería, the only surviving Moorish building in Zaragoza, contains a number of very fine rooms, notably the beautiful little mosque on the ground floor. A magnificent Gothic staircase with a coffered ceiling leads to the apartments on the upper floor, the palace of the Catholic Monarchs. The focal point of the palace is the Throne Room, with an over-ornate carved and painted artesonado ceiling. In the Sala de Santa Isabel St Elizabeth of Portugal was born in 1271. In the days of the Inquisition the Torre del Trovador was used as a prison. It provided a setting for part of Verdi's opera "Il Trovatore".
Surroundings
Sos del Rey Catolico
Leave Zaragoza on N 232, going northwest, and in 24km/15mi turn right into a secondary road which leads to Tauste, on C 127. From there C 127 runs north via Ejea de los Caballeros to Sádaba, crosses the Puerto de Sos (856m/2809ft) and comes to Sos del Rey Católico, a little walled town which has largely preserved its medieval aspect. Ferdinand of Aragon, "el Rey Católico", was born here in 1452 in the 12th century Palacio de Sada. In the Plaza Mayor are the Renaissance Town Hall and the Lonja (Exchange), and nearby the Romanesque parish church of San Esteban (11th-12th century), with a sculptured doorway and excellently preserved 14th century wall paintings.
Map of Saragossa Attractions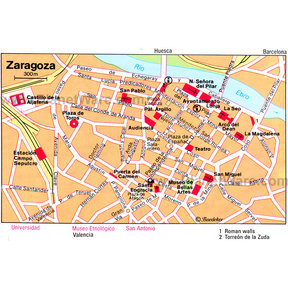 Map - Zaragoza