Saba
Saba, at five square miles, may be the smallest of the Netherlands Antilles, but the peak of its dormant volcano is 887m/2,800ft, the highest point in the Netherlands. The rain forest on the mountain and the Marine Park around the coast are both well-preserved, and are excellent scenic spots for hiking and diving.
Related Attractions
Marine Park
Saba's Marine Park encircles the island. Areas of the park have been zoned for different uses, and there are permanent moorings around the site. This controls the impact of divers and visitors on reef life. The island's dive operators follow the park's guidelines, and a slide show is given weekly to educate divers about the marine park's flora and fauna.
Mount Scenery
Being 887m tall (more than half a mile) means Mount Scenery is the highest point in the Netherlands. The most popular hike to the summit begins in Windwardside and passes through a variety of flora. Near the top is the Elfin Forest with its misty air.
The Bottom, Netherlands Antilles
Diving
Because Saba is volcanic in origin, divers will find hot springs and underwater lava tunnels around the island. All dives takes place in the protected Marine Park with about 30 permanent moorings to guide divers to approved sites. The preservation of the park has insured minimal impact by visitors, and this rewards divers with an unsullied seascape of colorful coral and spounges, and species of aquatic life such as sea turtles, singrays and tropical fish.Courses for all diving levels are offered on the island. The coastline of Saba is rocky and there are few beaches, however, snorklers will find a spot for themselves at Torrens Point.
Harry L. Johnson Memorial Museum, Windwardside, Netherlands Antilles
The village of Windwardside has small, twisting lanes and the only museum on the island.The Harry L. Johnson Memorial Museum preserves 19th C living conditions with antique furniture and memorabilia.
Fort Bay
Fort Bay is Saba's harbor.
Map - Saba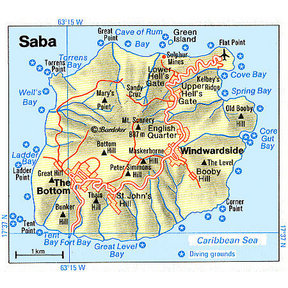 Map - Saba