Qufu Tourist Attractions
Top Tourist Attractions in Qufu
Qufu lies in the south of the Shandong Province, some 170km/105mi to the south of the provincial capital of Jinian, with which there are connections by rail and bus.In the ''spring and autumn periods'' (770-476 BC) Qufu was the capital of the dukedom of Lu. As this is the birth place of Confucius, the city has remained a ''mecca'' for his followers.
The Confucius Temple was built on the site of the birthplace of Confucius, in 478 BC, following his death.
Kong Family Residence
The Kong Family Residence (Kong Fu) is the residence of Confucius, which is the Latinized name for Kong Fuzi, the equivalent of Master Kong. Lying to the east of the Temple of Confucius, it has a total area of 16ha/39acres. In the Han period (206-220 BC) the family, already titled and possessing considerable wealth, had to administer the master's temple and supervise the rites and ceremonies. During the Ming period (1368-1644) residences were built for them next to the temple. The residential quarters, consisting of nine courtyards, numerous buildings and a garden, is divided into three sections. In the middle section are various offices, the former seat of the local government of Qufu and the bedchambers of the family members. The eastern section is reserved for religious ceremonies and rituals. The western section, which originally housed a library and several studies, has now been converted into a hotel.
Yanmiao Temple
The Yanmiao Temple to the north of Qufu was erected in 200 BC for Yan Hui, the favorite pupil of Confucius. The untimely death, at 32, of the extremely gifted Yan Hui affected Confucius deeply. The main hall is supported by four stone columns which are decorated with dragon motives, the roof is covered with green glazed ceramic tiles.
Map of Qufu Attractions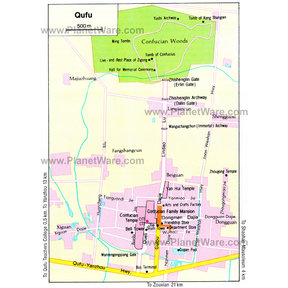 Map - Qufu