Puerto Vallarta Tourist Attractions
How to get thereBy air from Mexico City about 2 hours, additional connections with other Mexican and North American towns; by bus from Guadalajara about 7 hours; by car from Tepic about 170km/106mi on the MEX 200, from Guadalajara about 320km/199mi on the MEX 15 and the MEX 200; ferry links from Cabo San Lucas.Puerto Vallarta, one of Mexico's most popular seaside resorts, lies in a wide bay backed by luxuriantly wooded hills. It is one of the country's best-known holiday centres.HistoryThe settlement was first founded in 1851 and was given its present name in 1918 in honour of the state's then governor, Ignacio Luis Vallarta. The sleepy fishing village first came to notice in the 1960s when the neighbouring village of Mismaloya was used as a location for the film "The Night of the Iguana" starring Richard Burton and Elizabeth Taylor, who began their much publicised affair here. In 1968 the town gained a road link with Tepic and since then has developed rapidly.
Coastal Resort
Although Puerto Vallarta's cobbled alleys and white houses roofed with red tiles make it an attractive town, visitors are mainly drawn here by its expansive beaches, opportunities for water-sports, and tropical scenery. As well as its sea-front promenade (the Malecón) and its numerous hotels, restaurants, night-spots and gift shops, Puerto Vallarta also has a small museum in Escuela 15 de Mayo and Guadalupe Church featuring a curious crown-shaped tower.

Bay of Flags
The Bahía de Banderas (Bay of Flags), on which Puerto Vallarta lies, boasts a good two dozen beaches extending north and south of the Rio Cuale which divides the town. The most famous beaches north of the river include Playa de las Glorias, Las Palmas (or Las Cruces; palm grove), Oro and Chino (lying in the state of Nayarit.South of the river are the beaches Playa del Sol (or de los Muertos, popular), Las Amapas and Conchas Chinas (below the cliffs), Las Estacas, Punta Negra, Palo María and Gemelas (all with attractive bays). Mismaloya Beach lies 12km/7.5mi south, features the Los Arcos rock formation and offers canoe excursions to the diving area of the nearby lagoon.
Yelapa
Yelapa ("place of reunion") is an especially picturesque beach with a freshwater lagoon and waterfall; it is also a good place for diving.During the period December to March visitors can observe the hump-backed whales which come thousands of kilometres from the North Pacific to these warmer waters to mate.
Surroundings
15km/9.3mi further north of the Puerto Vallarta along the MEX 200 we reach the holiday centre of Nuevo Vallarta in the state of Nayarit and the adjoining fishing village of Bucerias. Nuevo Vallarta boasts one of Mexico's largest yacht marinas. After a further 15km/9.3mi the resorts of Rineón de Guayabitas and Peñita de Jaltemba are reached.
Costa Alegre
To the south of Puerto Vallarta, along the MEX 200, stretches the Costa Alegre, with some magnificent beaches and rich flora and fauna. The little resort of Las Almandas, Quemaro is unusual in that it consists of four villas for a maximum of 22 guests.
Zoologico de Vallarta
The Zoologico de Vallarta is a natural, recreation and cultural reserve that allows visitors to discover the magic of the jungle. There are over 350 birds, mammals and reptiles that call the zoo home. Visitors to Zoologico de Vallarta can feed the hippos, dears, rhea, dromedary, spider monkeys, bears, and flamingos. There is also a children's petting zoo.
Map of Puerto Vallarta Attractions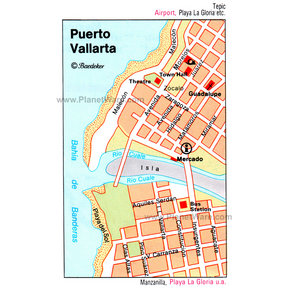 Map - Puerto Vallarta