Plzen Tourist Attractions
Plzen was established in the late 13th Century by Vaclav II. Today Plzen is the main administrative center in Western Bohemia. The Second World War had devastating effects on the town destroying or damaging much of the old architecture.
Surroundings
Domazlice
In the Chodsko Region of Western Bohemia is the town of Domazlice. The town is unique for its heritage and culture. The Chods have inhabited this area since at least the 11th Century, when they were given the unique privilege of freedom from serfdom. They were allowed to own lands in exchange for their service as protectors of a major trade route. Their luck changed under the rule of the Habsburgs, their privileges were stripped and their revolts crushed. The town of Domazlice retains much of the history and heritage of the Chods. Some of the town's people even still dress in traditional costume, although this practice is gradually fading. One of the best times to visit Domazlice is during the Chod folk festival in August when many of the traditions are brought to life.
Monastery, Plasy
The small town of Plazy is most well known for the large Cistercian monastery complex that was built here in the 12th Century. The Plasy Monastery underwent a major reconstruction in the 17th and 18th Centuries. At the center of the monastery are the the main highlights, the cloister and side chapels, which are noted for their frescoes. Some of the other buildings were converted into a school and an exhibition space containing an art gallery. The monastery was secularized in the early 1800s and became the seat of the Princes of Metternich. During that time the church became the Metternich family mausoleum.Today the Plazy monastery is owned by the state and is in need of restoration work but it is open to the public for tours.
Historical Underground
Beneath the town of Plzen runs a labyrinth of layered tunnels and galleries built between the 13th and 19th Centuries. These medieval passageways served a variety of purposes over the years. During the 16th Century the tunnels were used as waterways and sewers to bring water to the water tower and the town's fountains. They were also used to drain water from the slaughter houses. As well, the cellars were used for preserving food and other goods.Excavation of Plzen's historical underground turned up pottery, wood, and other pieces which would be used in every day life during medieval times. Some of these items are on display in the underground area open to the public. The Historic Underground is a unique attraction and a nice diversion from church and castles, although it is probably not suitable for people with a fear of small or confined places. The tunnels must be visited with a guide.
Map of Plzen Attractions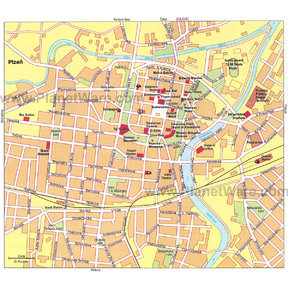 Map - Plzen