Patan Tourist Attractions
Patan (Lalitpur)Situated to the south of Bagmati this town has for some time officially been named Lalitpur. Popularly, however, it is still called by the old name of Patan.
Raato Matsyendranath Jatra Festival
The major festival in Buddhist Patan is the Raato Matsyendranath Jatra to which ritual ablutions, usually performed in late April, are a prelude. Raato Matsyendranath is transferred to a sacred water-vessel whilst his image is repainted and repaired. Then the god is drawn through the city in his chariot, accompanied by numerous other deities. The chariot halts each night for worship in a different part of the city. At the end of May the procession reaches Jawlakhel. The Bhoto Jatra (Bhote Tibetan) is the highlight of the entire festival.
Ashoka Stupa
Of the four stupas around the perimeter of Patan, the northern is best preserved. It has been whitewashed - the others are overgrown with grass - and a number of old Buddhist sculptures survive.The southern or Lagan Stupa is the largest of the four, the eastern or Teta the smallest. The western or Pulchok Stupa on the main road from Kathmandu to Jawlakhel is completely overgrown.
Pubhu-Kathmandu Road
The Lubhu-Kathmandu road, cutting diagonally through Patan, is believed to follow the line of the original trade route. Konti and Cyasah squares, hiatuses in the strict grid pattern of the city's streets, were probably village nuclei on either side of the old road, which ran along the plateau 15 m (49 ft) or so above the Bagmati's alluvial plain.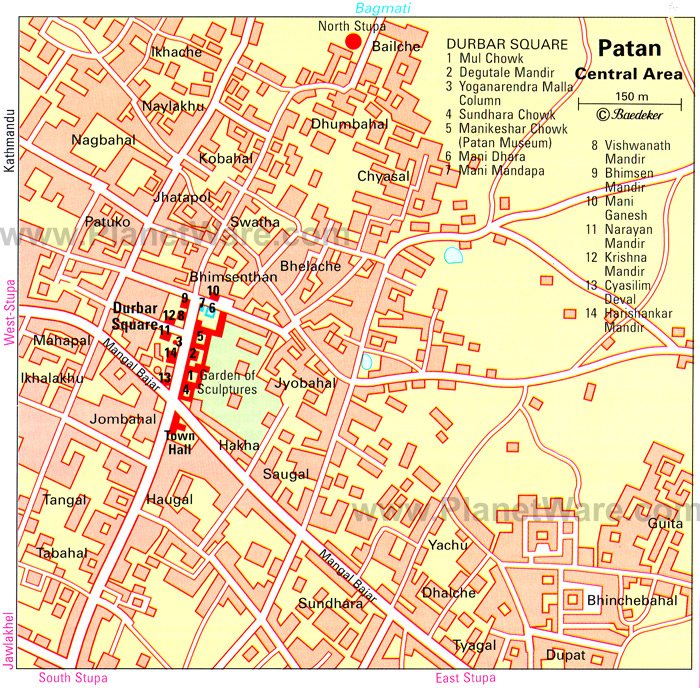 Patan Map - Attractions
Want to use this map on your web site?
Copy and Paste the code below:
More on Nepal
Destinations
popular right now